The Best Free WordPress Themes in 2022
In creating websites there is one key point: to possess an attractive design or theme, WordPress as a content manager allows you to work freely on this feature. With its open source code it is possible to create fantastic designs and even make use of Website builders such as Elementor or WPBakery.
Usually there is a limitation when looking for attractive designs, money, if you are just starting in web development and design, you should know some of these incredible free proposals. Free WordPress themes are a scalable advantage for users providing designs at no cost.
What Are Free WordPress Themes and What Are They For?
A free WordPress theme is the structure or appearance of a page created with WordPress, which determine how the site works. They are useful to change the display of a web page without having to change software.
The free themes incorporate different demo pages, so you only have to choose the design or template that suits your tastes and project objectives. WordPress themes make the work easier, you only have to replace the text and add images.
Each theme offers features for customization, being friendly with new users, it will not be necessary to have previous knowledge, although the ideal would be to know PHP language. One aspect that stands out from the free WordPress themes are the installation processes which are performed from the provider's website or from the CMS.
For each project there is a free WordPress template, it is important to choose according to the functionalities and purposes. There are even multipurpose themes, which bring compatibility, credibility and mobile adaptability.
Advantages and Disadvantages of Free WordPress Themes
As mentioned there are numerous options of free WordPress themes, which are a boost to achieve the success of your website. Among the advantages of this open source content management system is that its services are free , offering the best templates without a large investment.
Certainly, there are users who believe that the free versions have detrimental disadvantages for the development of a website. This reasoning is not entirely true, even if the free versions are not on a par with the premium ones, they are not an obstacle.
Therefore, we present you some advantages and disadvantages of free WordPress themes to make your choice easier.
Pros
Compatibility and upgradeability
Speed and ease of editing
Simplicity and variety
Cons
Vulnerability to computer attacks
Most of the time it does not have SEO optimization
Little technical support
What to Consider Before Choosing a Free WordPress Theme?
When selecting a free WordPress template or theme, it is essential to enter from official digital platforms. That is, from WordPress Plugins, developer centers or websites that have a safe popularity, avoiding themes that hinder and harm.
It is also essential to question yourself about the needs and motivations of the project. These questions and answers will guide the design of the website, because everything must have a sense, each element must be well thought out.
These are some points to consider, but we want to delve even deeper, so here are some features that you should specify when choosing a free WordPress theme.
a. Accordant, Editable and Flexible Design
Turning your website into a base of operations is a mission that requires three qualities: functionality, editing and flexibility. Therefore, you should choose a template that relates to the website, in addition, that allows you to easily edit fonts, add images and provide your own style.
b. Compatible with your Visual Layout Designer
The theme to choose must be compatible with the visual layout or website builders, this in order to design fast and easy. On the other hand, when choosing an incompatible template, it will be complex to edit the predesigned ones, not supporting the options of selecting and dragging.
Therefore, check the features of the template before installing it to get a creative experience and compatible systems. Also, choose a template with responsive design to have an attractive appearance on any device.
c. Opinions and Reviews
In case you have no knowledge about free WordPress themes one solution is to check user reviews. By looking at their comments you will be able to draw conclusions about the benefits, advantages or unfavorable situations of the templates.
Focus on specific details to get an objective view, whether it is the ease of editing, updates, speed, resolution, security flaws among others. Even if you have documentation or the ability to translate content.
e. Custom Widget
It is ideal to choose a design that has custom Widgets, these are important and facilitate the addition of elements through the drag and drop interface. Undoubtedly, the WordPress installation contains some Widgets compatible with the themes, the ideal will be to select a theme that contains custom Widgets to perform between 20 tasks without the need to install plugins.
f. Lightweight Design
A lightweight and clean theme is one of the best options to choose, these avoid problems with WordPress systems and plugins. In addition, they help you in SEO score. This way, the design and performance of the website will not be affected by the chosen theme.
g. Integration for Online Stores
Finally, if you want to create an online store with WordPress you must choose the appropriate design that integrates the WooCommerce plugin. These themes are specifically oriented in the development of stores, therefore, the default design will be useful to add shopping carts, order inventory and edit images strategically.
Best Free WordPress Themes
Hemingway is one of the best rated free WordPress themes, reaching 4.5 out of 5. Its design is oriented in Blogs, ideal for presenting content in 2 columns and with sticky-post function.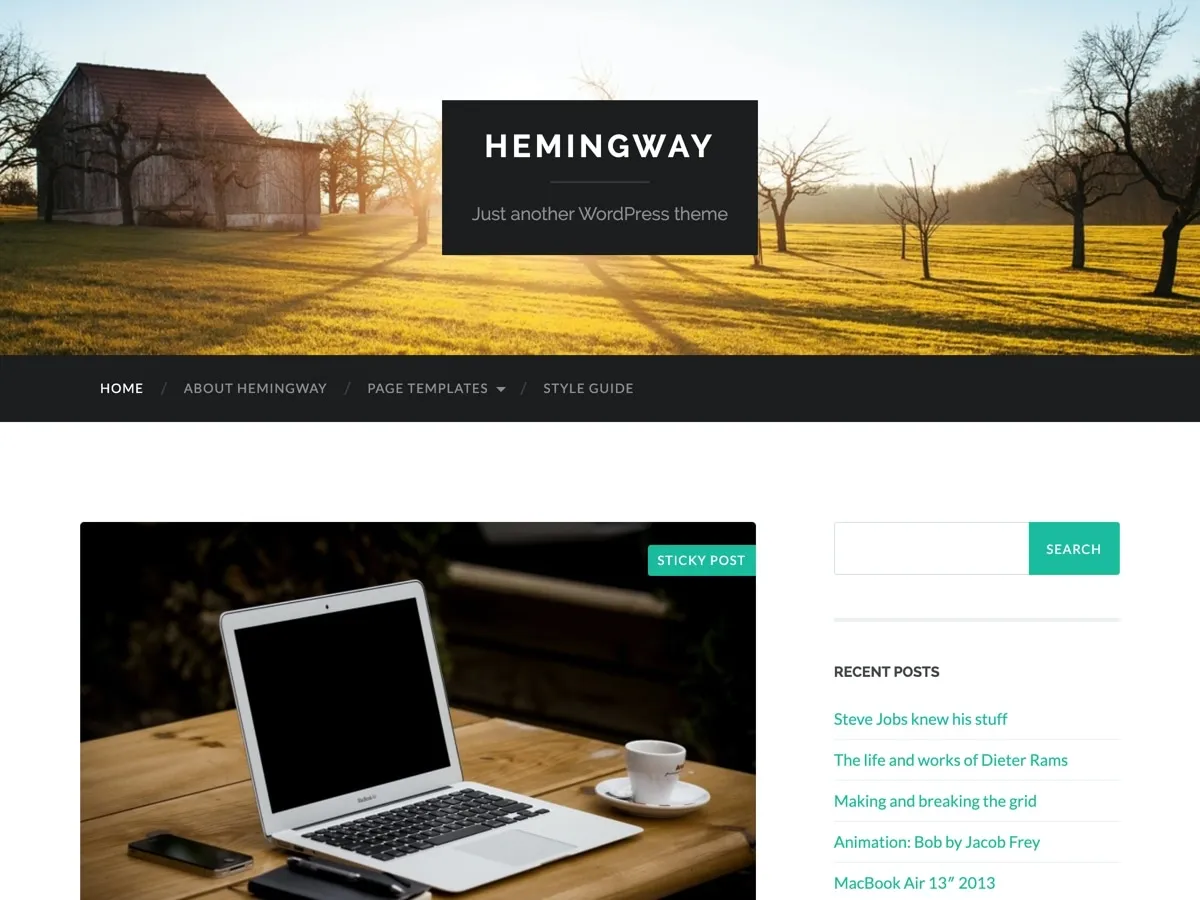 It is an elegant WordPress theme, with standard post formats, video, sidebar and even quotes. It integrates full-width header images; it is a theme that takes care of creating a good impression and offers an interactive experience.
A free WordPress theme rated by critics, called one of the most versatile options in terms of page design. It integrates Font Awesome icons and custom widgets.
It is a specialized design for businesses, stores and landing pages with amazing customization options. It is a modern theme adapted for websites with business features and even personal, blogs among others.
With the inclusion of widgets it is possible to implement portfolios, testimonials, products. Creating an online store will be easy with this design thanks to the compatibility with WooCommerce.
Storefront is a free WordPress compatible theme, it has one of the best ratings, 85 starter templates and more than a million downloads. It is according to all types of websites, with a modern and lightweight interface.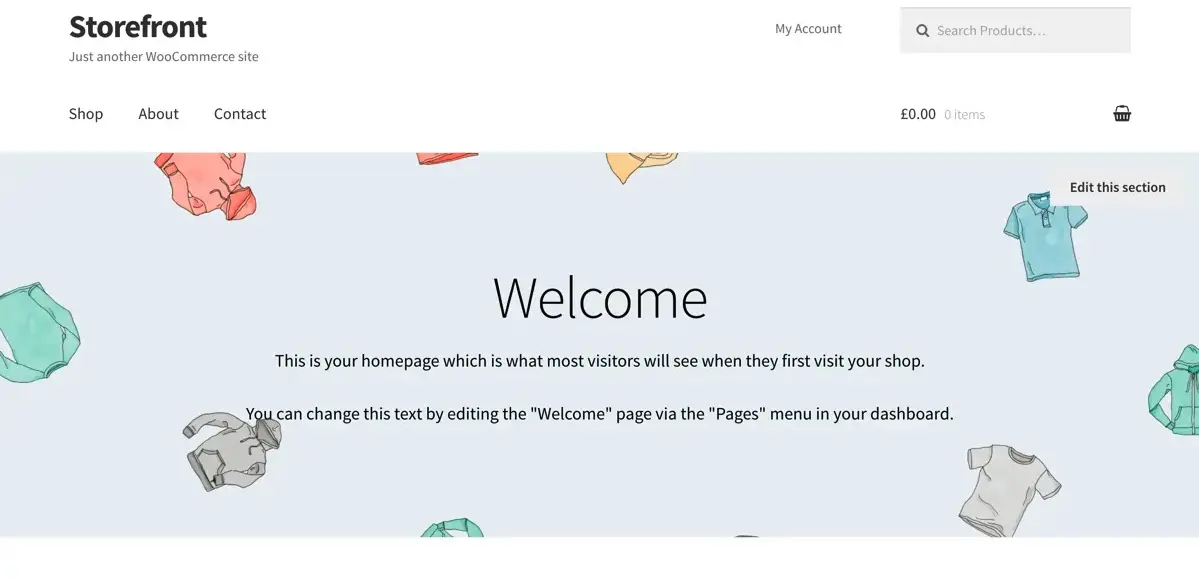 It was designed by the developers of WooCommerce and integrates multiple options for customization, online store design and compatibility with mobile devices. In addition, it is possible to purchase extensions to customize blog and menus.
The free WordPress Vantage theme is one of the most flexible options among the catalog of designs, ideal for different websites. It stands out for its compatibility with the CSS editor, in addition to supporting 50 widgets that guarantee ease of editing.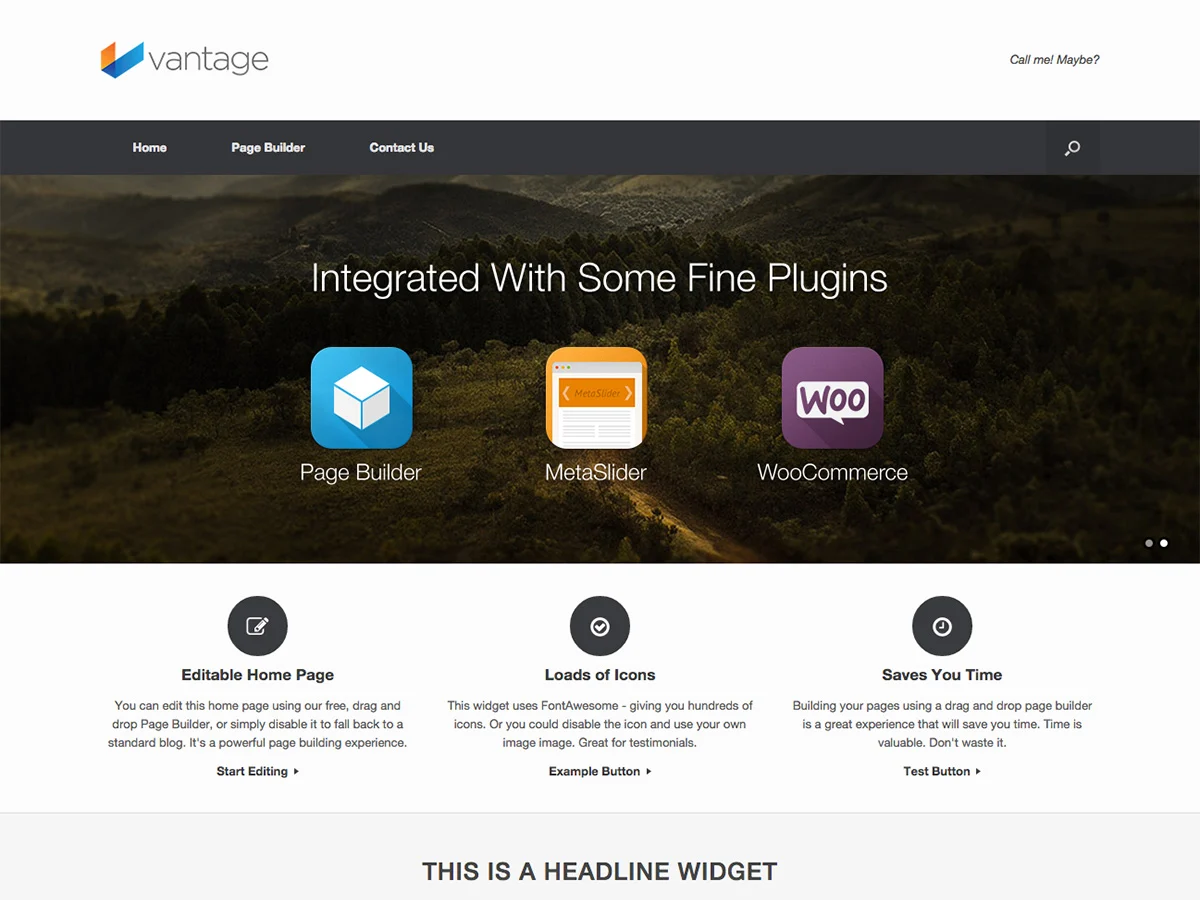 It integrates a SiteOrigin page Builder plugin that allows layout and design without being a professional designer. Likewise, it is possible to access better headline options, accordion menu and hero sliders.
Vantage offers customized templates for homepage, online stores and contact information.
A lightweight WordPress template is Hello Elementor dedicated to the development of a website with Element. Generally used for building websites, its updates include different options for web design.
It integrates a library of Elementor templates so you can choose the one that suits your project.
As the last option among the free WordPress themes we present you Bento, you will feel like you get a premium version after using its designs. It is a powerful theme, easy to use and with customizable resources with which you can play and combine in your favor.
It has a drag-and-drop content generator, you can configure fonts and choose from 500 vector icons. It even implements SEO enhancement to optimize speed.
Overall, Bento is a clean design, with color schemes to taste with secondary themes without harming the original code.
How to Change your WordPress Theme?
To change your WordPress theme is necessary to fulfill 4 simple steps, first you must have the following data. The code snippets, Google Analytics tracking code, sidebar content and widgets and website backup.
By entering the maintenance mode the website will be unavailable, this way, you preserve the brand credibility while making the change. To do this you need to install the WP maintenance mode plugin or a page builder plugin and enable maintenance mode from cPanel.
To perform this step it is not necessary to make use of coding, it is a procedure that safeguards the brand in case the functions are not executed.
In the WordPress theme directory, you go to the skins section and select from the wide variety of themes. Once you have selected the theme, you will be inside the page and you must install the theme directly from WordPress.
To install click on "add new", also, you can click on the chosen theme and select install.
Preview and activate the theme
The third step is the activation of the theme, first you must detail the preview, it will display the theme customizer showing how the design will look on your website. If you want to use the template immediately just click on activate.
Finally, you will need to restore the data, codes, settings from the previous theme. First add the code snippets and shortcodes from the theme, check and reset the widget options and sidebar layout.
Second, adjust the widget formats and areas on your website, as well as make sure favicon is running correctly. Finally, add and manage Schema markup, in case this code (Schema markup) undergoes reconfigurations it will be necessary to adjust the theme manually.
Remember to check the existing plugins that are not replaced or oppressed by the new theme's plugins. Also, make sure that the new theme does not obstruct the web content.
So, free WordPress themes will be advantageous according to the scope of the project, you can get a unique look, dynamic and easy to edit without investing money. Of course, the disadvantages are noticeable, and it is not the right solution for users with websites that handle critical data.
Still, it promises what they claim to offer a customization service suitable for each website according to its objectives.
Frequently Asked Questions
✅ What are Free Wordpress Themes?
Free WordPress themes are editable templates or extensions used to control, design and modify the look and feel of a website. These themes allow global configuration of content and style.
🤷 What are Free WordPress Themes for?
Free WordPress themes serve to produce a customized graphical interface, modifying the way in which the website is displayed. They are a series of files, templates and modules with plugins that manage to change, order and present a website according to a purpose.
✨ How to install a free WordPress theme?
To install a free WordPress theme you must follow the steps below
Choose the theme and click on the image.
Click on the drop-down option "install theme".
Download directly from the CMS, unpack the file and install it.
Then activate the theme via a link sent to you
Once installed, you must configure the preview and start using the free theme.
🚀 What is the difference between a free and a paid wordpress theme?
Premium themes are characterized by no limitations in customization, have lifetime licenses, high quality designs and protection with regular updates. Free WordPress themes have limitations and sometimes do not allow full customization, however, their designs maintain the quality.
Free themes do not have advanced features or additional functions such as animations or element movement. On the other hand, a premium theme maintains professionalism and adds new elements.