NameHero: Pricing, Ranking, Reviews and Opinions
Every day more and more providers are joining the digital market, to innovate web projects. Since 2015 NameHero has been an amazing bet for developers, it has been the hero that boosted thousands of companies and web projects.
It includes tools that provide speed, power and security to more than 300,00 websites. They are a worthy provider to hire and they will be ready to fulfill the tasks of the website .
NameHero is in the ranking of lowest prices, outstanding performance and technology with 45 days guarantee. Do you think it is the hosting you need? See how far NameHero can go for as little as $2.89 per month.
NameHero Pros and Cons
Pros
Outstanding security and privacy
State-of-the-art tools and servers
Ultra fast SSD Raid 10 drives
WordPress applications pre-installed and ready to use
Access to cPanel and possibility to add other panels on VPS plans
45 days warranty
Cons
Free domain for 1 year only in Turbo Cloud and Business Cloud plans.
Discounts only apply in contracts longer than 36 months.
NameHero Offers and Plans
Reasons to Choose NameHero in 2023
The first reason to choose NameHero is that, being an American company, it takes advantage of its location and knowledge to put more emphasis on being the fastest in the market. In addition, it includes servers with LiteSpeed, ultra fast SSD Raid 10 Disks, access to cPanel, SiteBuilder for flawless management.
NameHero has also excelled in offering unlimited services, which virtually eliminates barriers and increases the performance and stability of your website. The second reason why you should go with this provider is that it was primarily designed to offer larger and reseller plans.
NameHero also excels in its shared and VPS plans, it has managed to place itself in the eye of many users. The third reason to consider NameHero is that it recognizes the importance of including WordPress in its services and access to cPanel, two fundamental tools for construction, management and development.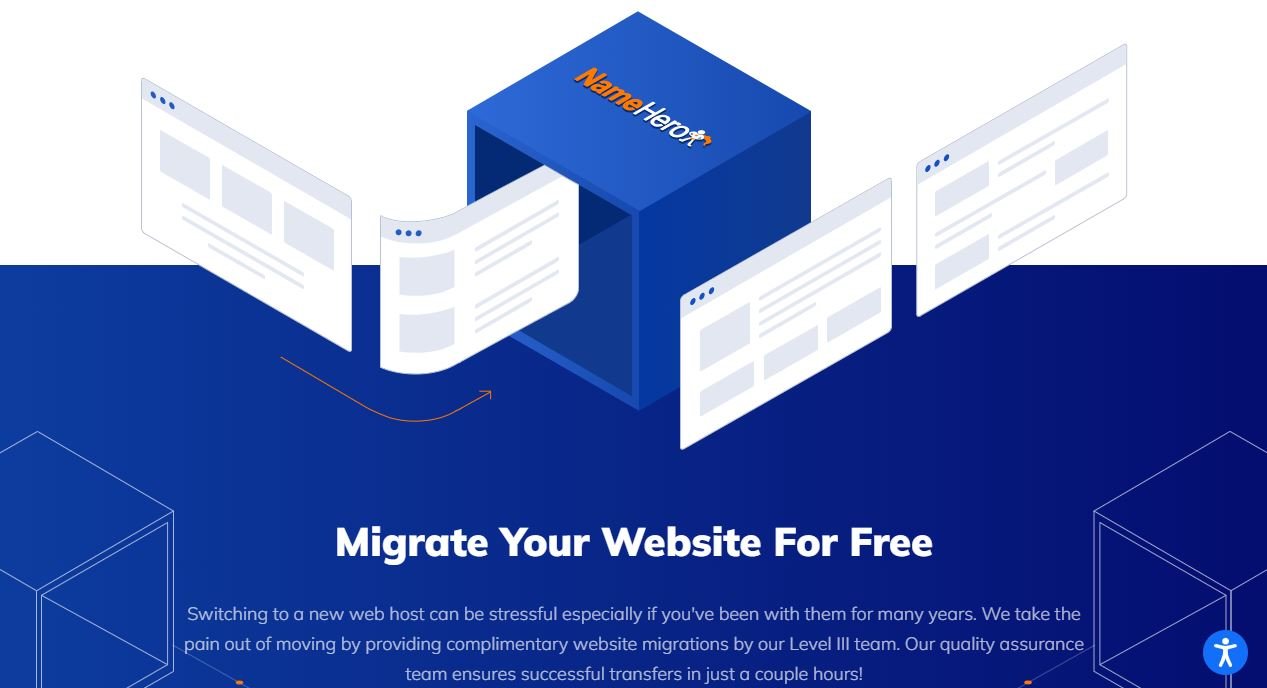 Finally, the most relevant reason is the front-end interface for visualizing and navigating NameHero. The ease of access and the Spanish and English languages are key reasons for preferring the provider. In addition, they have an online chat ready to answer all your questions before you decide on any of their services.
NameHero Services in 2023
NameHero has all the tools and applications available to create a professional website. You can design sites with drag-and-drop ease, allowing for a wide variety of professional templates.
By selecting here you will be able to view all NameHero's services and detailed plans, such as starter Cloud, Plus, Turbo Business. As well as all available hosting such as Shared and VPS.
Reseller plans and resources are ideal for investment due to their low prices, variety of tools and unlimited services.
NameHero has multiple domain extensions available, which are very effective and help you when registering or migrating free domains. Prices are priced separately, each domain name with subdomain options for multisite.
NameHero Reviews and Features
1. Quality of Support
NameHero, like its competitors, has taken care to offer technical support that meets the expectations of its users. It keeps several channels open, with outstanding response times, as speed is its forte and tries to answer questions or problems promptly.
NameHero provides tutorials that will undoubtedly help to better understand both its interface and the services offered for different digital projects. It has 24/7 customer support 365 days a year via online chat, emails, calls and tickets, with a response time of approximately 15 minutes.
2. Ease of Use
When selecting a quality provider, you should always look for simplicity, flexibility and complete optimization. NameHero thinks and takes into account the needs of the users and their websites, thanks to its cPanel access it provides its users with a 100% covered management.
NameHero through cPanel offers immediate management and applications at the click of a button. This allows for a noticeable reduction in overall workload, giving users the freedom to focus on the content and purpose of their digital project.
NameHero's interface is fast, easy and intuitive, allowing the minimization of tasks within your website, offering a unique experience to its more than 300,000 websites.
3. Storage
The price of your services and plans will limit the amount of storage and resources NameHero provides. It is important to detail what your site's needs are, before deciding on any of their plans.
The starter plan, ideal for bloggers or web businesses starting out, includes 1GB of RAM, unlimited SSD Raid 10 disk storage and LiteSpeed. In Plus, Turbo and Business plans 2GB, 3GB, 4GB RAM, unlimited SSD storage, unlimited websites, unlimited bandwidth.
This allows you to manage not only one web site, but several sites simultaneously without restrictions, storage or speed limitations.
4. Domain Names
One limitation of NameHero is that you will be able to opt for a free domain name only if you purchase the Turbo Cloud or Business Cloud plans. This leaves plans prior to those without a domain name, an extra cost outside the plan, which you will have to pay if you wish to register a domain name with NameHero.
Despite being a relatively new provider, it maintains within its services popular domain extensions within the digital market. You can view the most used by its users and the ones that have the best views by Google and the digital market.
5. Databases
NameHero considers the storage of data from the different sites it hosts to be important and should not be restricted in any way. Therefore, most of NameHero's plans include MySQL databases with data protection and completely unlimited daily backups.
NameHero is based on reseller plans, which is why it has many of its services completely unlimited, in order to meet the expectations and demands of multiple websites 24 hours a day. Even so, NameHero has been able to break through with its shared plans that according to user and expert opinions fulfills what it promises and more.
6. Transfer
NameHero includes CloudFlare transfer speed in its transfer sections, which allows hosted websites to load in 1 second. In addition to a page uptime of 99.9% for several years in a row.
NameHero's greatest strength is the speed and stability of all its clients' websites and digital projects. It has the latest server technology and optimization tools that allow a smooth, constant, fast and uninterrupted transfer of data and multimedia content.
7. Mail
Being a reseller provider, NameHero offers a large number of email accounts depending on the multisite generated. Most of the times it includes in basic plans 7 accounts of 100 MB of storage each, besides being compatible with Android and IOS operating systems.
NameHero emails allow synchronization with mobile devices, so you can manage from a distance any aspect of your website, through professional email. Webmail included. Google, SEO and ADWord applications.
8. Applications
WordPress is the first thing that should stand out in any quality hosting provider. NameHero comes with pre-installed and ready to use applications such as WordPress. It also has the presence of operating systems of the user's preference when hiring VPS services.
Other applications that also have a place within the services offered by NameHero, include Drupal, Joomla, WooCommerce. It has access to cPanel so you can manage, update, download all applications, operating systems and useful content for your digital project.
9. Multisites
The most outstanding and quality point of NameHero are the multisites in smaller or basic plans, it includes 7 multisites. Unlike other providers that only offer between 2 and maximum 5 multisites.
In their more advanced plans for medium and high reach projects the multisites will becompletely unlimited, as well as the subdomains and the domain will be free for 1 year.
If you want to host a network of websites on the same WordPress installation you can download the WordPress Multisite plugin. It is an advantage to manage multisites.
It should be noted that the price reduction will depend on the time of hiring their plans and services.
10. SSL Certificate
All NameHero plans and services include free SSL Let 's Encrypt, a benefit that is appreciated and is very useful for all those who wish to have a solid, secure and stable website. Thanks to the prices offered by this hosting provider, acquiring an SSL within their plans is quite economical, which reduces the hiring of extra resources to give reliability to your website.
NameHero constantly performs performance and service tests, to interact and attack all the weak points and generate more pros than cons to users.
NameHero Pricing & Promotions
NameHero Hosting has really affordable prices and quality services for any type of website or e-commerce. Take into account that in the starter plan you will have to purchase the domain name separately, because it is not included.
| Service Offer (Shared Hosting) | Price from | Savings |
| --- | --- | --- |
| Starter Cloud | 2.89 per month | No discount. |
| Plus Cloud | $4.93 per month | No discount. |
| Turbo Cloud | 11.55 per month | No discount. |
NameHero Promotions
This provider's promotions include discounts on contracts longer than 36 months. In addition to unlimited new resources, WordPress installation and access to automated cPanel.
NameHero Payment Methods
NameHero has several payment methods with different activation times. Take this into account before choosing a final payment method.
PayPal
Visa/MasterCard
Transfers
NameHero Disadvantages
Their basic plans unfortunately do not include a domain name, which represents an extra cost for those who wish to purchase a basic service with NameHero. Compared to other providers, this is an advantage, since from the simplest to the most complete services, NameHero includes a free domain name.
Discounts on plans only apply to contracts over 36 months of services, being a disadvantage to acquire payment benefits.
NameHero Hosting Conclusion
NameHero is a hosting provider founded in 2015, it has been profiled among users due to its powerful tools, servers and technology. Granting results to its customers above market expectations.
It has optimized WordPressapplications, access to cPanel for better management and development within the website. Backups, password creator to protect data, anti-hacking protection, affordable reseller plans, ultra fast SSD disks and support 24 hours a day, all year round.
Undoubtedly, it has managed to position itself and gain reputation with the best load times, the best technology inclusion, best server location and affordable prices. It is recommended for clients who want to boost a site, Namehero is the superhero that every website needs!
NameHero Hosting Alternatives
Top 5 Hosting Services in 2023
NameHero Datasheet and Features
| Features | NameHero |
| --- | --- |
| Hosting | |
| Price | $2.69 |
| | Ver Oferta |
| Shared hosting from | $2.69 |
| Dedicated hosting from | $162.37 |
| VPS Hosting from | $23.17 |
| Refund Policy | 30 days |
| Location of servers | USA and Holland |
| Disco (SSD or HDD) | SSD |
| CPU cores (number) | From 2 |
| Loading time (ms) | 936 ms |
| Control panel (cpanel, etc.) | cPanel |
| Disk space (up to GB) | From 30GB |
| RAM (up to GB) | From 1GB |
| Wordpress? | |
| Website builder? | |
| Free site migration? | |
| Free domain? | |
| Free SSL? | |
| | Ver Oferta |
NameHero Frequently Asked Questions
✅ What is NameHero?
It is a provider founded in 2015 in Michigan USA and has locations also in Arizona. It specializes in offering services geared towards WordPress speed, performance and applications. It offers its users unlimited transfer, storage and bandwidth at low and affordable prices.
✌ Why Choose NameHero?
It has an excellent investment plan for resellers, current technology, unlimited resources. It has access to cPanel, applications such as Drupal, Joomla and corporate webmail in all its plans and services.
👌 What are the benefits of NameHero Hosting?
It has SiteBuilder ideal for creating websites in a professional manner, security sections for greater data protection, free SSL. In addition, it allows the creation of unlimited multisites, with unlimited email accounts and unlimited transfers as well as databases managed from cPanel.
💰 How much does NameHero cost?
Starter Cloud $2.85 por mes
Plus Cloud $4.93 por mes
Turbo Cloud $11.55 por mes
🚀 How to install NameHero?
Entering their official site and selecting their plans and services, depending on the demands and needs of your website. You can also get advice in their online chat where they will guide you to acquire the most appropriate service for your website.
⭐ What Other Hosting Providers Are Recommended?
We at
Hosting Dolphin
have taken the task of selecting for you a list of other hosting providers for you to make your choice: In the following list, you will find the reviews of the best hosting on our website:
🔍 What Hosting Related Content Can I Know?
If you want to know more information about the world of
Web Hosting
, we invite you to continue browsing our website, where you will find articles such as:
This has been our summary about NameHero, we tried to be as objective and honest as possible so that your decision when choosing this provider is the right one.
If you have suggestions or any comments you want to make about this review you can leave your comment below, we also invite you to check out more of our web hosting reviews. Thanks for staying with us.