SiteGround: Pricing, Ranking, Reviews and Opinions
Finding a hosting service has become a necessity for any digital project, and SiteGround can be the right choice. It is an independent, popular and influential hostingpopular and influential hosting provider with various resources to optimize a website.
Millions of users have opted for its services of excellent loading speed and availability 24 hours a day. SiteGround does not limit web traffic, has Google cloud infrastructures, solid caching, optimized applications and managers.
SiteGround promises hosting plans tailored to the user's needs, facilitating web management with powerful tools. Will SiteGround be the ideal hosting for you? SiteGround the ideal hosting for you? Find out what's new with the popular web host.
SiteGround Pros and Cons
Pros
Excellent loading speed thanks to its optimization tools SuperCacher, SG Optimiser, Ultrafast PHP.
Powerful tools for web specialists and beginners.
Easy to access and manage hosting experience.
You can choose the server location: Europe, Asia, America.
SiteGround offers 99.99% server availability.
Quality technical support and professional help.
Unlimited traffic.
Cons
Additional costs for professional tools, domains, migrations and extra resources.
Value for money on premium plans can be expensive.
SiteGround Offers and Plans
Reasons to Choose SiteGround in 2023
If you are thinking about choosing SiteGround among your hosting services you should know the advantages to meet your web project requirements. SiteGround adapts to professional developers or beginners by providing easy to use tools and power to the web.
Among the reasons to choose SiteGround are the control panel integration with Cpanel for better management. Also, you can install with the SiteGround manager amazing applications to optimize the web.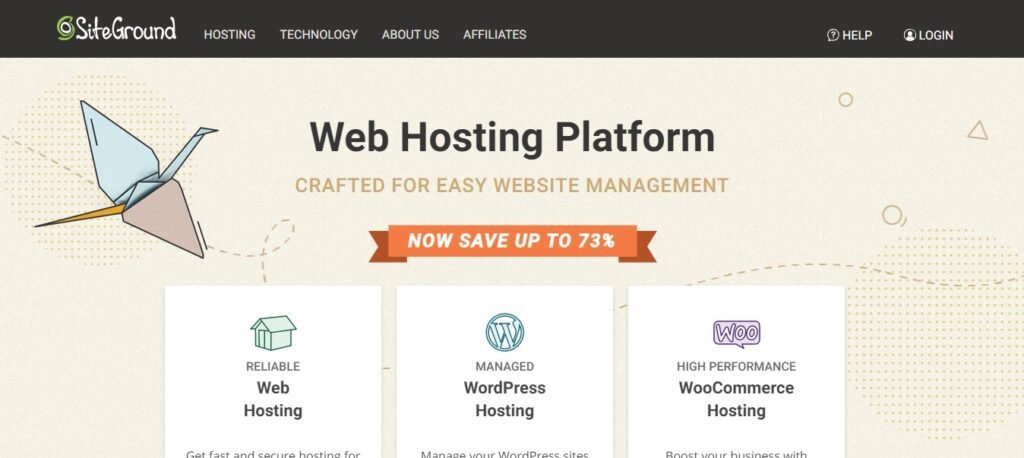 SiteGround only provides free domains for one year, but it makes up for it in performance, 24-hour availability, speed and backups. Also, SiteGround has Google Cloud infrastructure providing better performance, ultra-fastness and security.
SiteGround stands out for its stable, reliable, fast and 99.99% availableservice. With an intuitive interface allowing the management of cPanel or WordPress optimal for managing projects of high, medium or small size.
SiteGround Hosting Services in 2023
SiteGround since its foundation in 2004 in Bulgaria has revolutionized the way tooffer an optimalservice for websites.
Web Hosting or Shared Hosting Service
The shared hosting offers plans for website creation with exceptional features, with security, unlimited sites and databases managed with cPanel, WordPress or Site Tools.
WordPress Hosting Service
A system that takes care of downloading, installing and configuring WordPress to customizeyour site faster from cPanel and WordPress.
wooCommerce Hosting Service
Configure wooCommerce to hire the package, being ideal for selling any product or service on the website. It has a wide variety of payment and shipping options configurable, it is possible to manage them with cPanel or Site Tools.
This hosting service allows you to take your website to the next level with a cloud infrastructure with more than 5 TB of monthly transfer.
SiteGround Analysis and Features
1. Quality of Support
One indicator for choosing an excellent hosting service is the quality of technicalsupport. SiteGround has a praised technical support and customer service, due to the professional training of the various agents willing to collaborate in the management and optimization of the website.
However,accessing customer service contactpoints and finding contact forms is a complex task. SiteGround's various options make it difficult to access customer service agents.
However,once you log into the live chat, email supportor call service at SiteGround. You will receive an immediate response with effective solutions available 24 hours a day.
2. Ease of use
SiteGround adapts the usability of the service to each type of user by providing a simplified and user-friendly experience. Each one oftheresources offered by the hosting complies with intuitive strategies that allow a simple and fast use.
From the SiteGround control panel, which includes a version of cPanel, it is possible to manage aspects of the server stack. Setting up new technological tools for the web sites, managing backups or viewing statistics are quite easy to do from the control panel.
SiteGround's interface offers a quick-start wizard ideal for beginners, ensuring a beneficial experience when configuring. This way,installing plugins like WordPress, choosing themes and even creating pages is easier.
3. Storage
SiteGround invests in attractive and beneficialstorage options for users with large projects. The most popular is the NginxSSD-drives cache storage, offering fast servers.
SiteGround's storagesystem called "SuperCacher" consists of three tiers: static cache, Memcache and dynamic cache. These three tiers store cached versions of the website in the server's RAM with PHP which reduces the TTFB "Time to First Byte."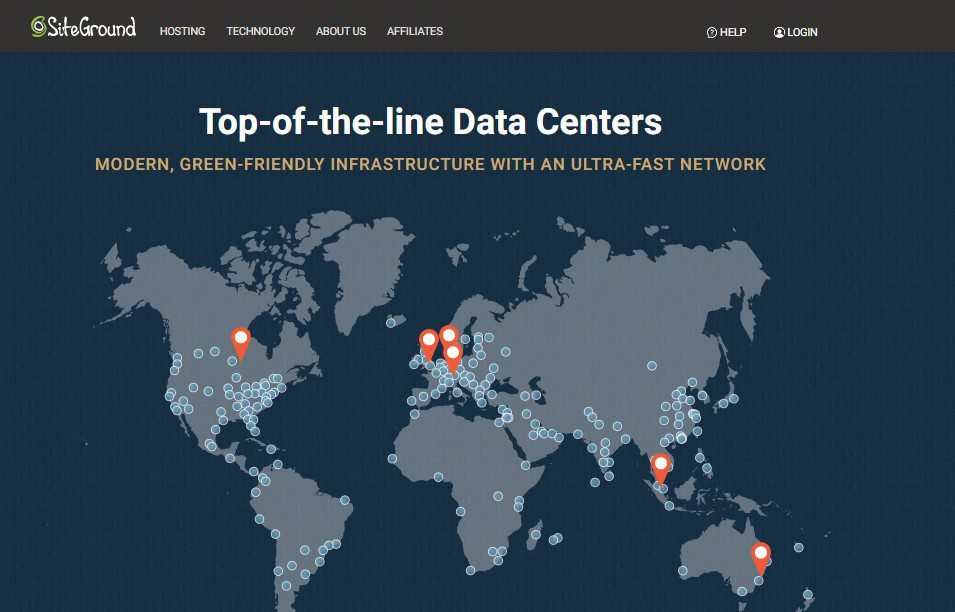 With these caching options, better load timesare expected , reducing memory usage . SiteGround's NGINX Direct Deliveryis enabled by default for any domain and subdomain created.
In SiteGround's basic plans you will have 10GB of storage, however, in GoGeek plans you will have 40GB of storage. Also, in Cloud Plans you can purchase up to 180GB.
4. Domain Names
The domain allows you to translate the IP addresses identifying the website. At SiteGround you can host your website by choosing from more than 30 domain options, activating a hosting account or registering the website through independent domains.
For the price of $17.99 per year you can choose from the most populardomain extensionsin web hosting, SiteGround makes it easy to register domains in new accounts or user areas. You can also choose domains according to region and country.
With SiteGround you can register a new domain forfree for one year or use one of your own. If you decide to purchase a domain with SiteGround you can go for a special one like:
.online
.blog
.shop
.club
.xyz
.guru
.photos
To connect your domain you must register the nameserver to SiteGround, the one-click wizard and installer will make the process easy for you.
5. Databases
Databases facilitate the creation of restricted information on websites, just SiteGround works with the best database systems. MySQL and PstgresSQL are included in the unlimited hosting packages.
From cPanel or Site Tools you can easily manage and create databases guaranteeing high-level processing for commercial or personal use. In SiteGround versions higher than MySQL 5.02 you can get the benefit of an additional database.
The additional database called "information schema" allows access tometadata, i.e. information about the created databases: names, tables, columns, typologies, accesses or privileges. This system allows to diversify the information about the databases in SiteGround.
6. Data Transfer
SiteGround provides a service with data transfer without any limitation in bandwidth or web traffic. Thus, its plans provide specifications in terms of the number of visits to guide you in choosing the ideal package.
SiteGround provides tools with bandwidth and data transfer summary that can be analyzed from site Tools or cPanel. Setting up all the server information in one place, specifying the hard disk space data.
With SiteGround you don't have to worry about the amount of data transfer, but if you want a satisfactory experience choose a plan with appropriate features.
7. Mail
SiteGround allows in each of its plans unlimited emailaccounts on your domain name. These can be managed from the Client Area or Webmail, creating numerous accounts for a specific website.
The process to create an email is practical and simple, just type the email address before the @, set a secure password. You can manage the email account by modifying the storage limits quota.
With SiteGround you have access to a menu with multiple options to manage your website's email and increase up to 10,000 MB.
8. Applications
One of SiteGround 's tools is the application manager that through Site Tools allows you to access a catalog of resources. These applications or resources are necessary to manage the website and the hosting account.
Among the most popular applications are:
WordPress
Drupal
Weebly
WooCommerce
Joomla
To install the application, you only have to download it in the chosen domain or subdomain and indicate the path to host the file. Then choose the preferred language, enter the administrator data, password and email to continue with the installation.
9. Multisite
SiteGround allows you to add several websites in the client panel according to the service you have contracted. But an important tool to manage different websites is WordPress multisite, having several sites in the same application.
You can manage different websites from the WordPress administration, evaluating and choosing plugins, themes or page features. A favorable way to use WordPress Multisite is to create a network of sites with similar aspects to share the same peculiarities and configurations.
10. SSL Certificate
On theSiteGround domain name you caninstall three types of SSL certificate: Let's Encrypt SSL, Let's Encrypt Wildcard SSL or Wildcard SSL Premium. SiteGround allows you to customize the SSL certificate in a beneficial and easy way to protect the main domain and subdomains.
With just a few clicks you can access additional services for the hosting plan such as Wildcard SSL Premium certificates. From the client area in SiteGround you can add a certificate to the selected website by changing the settings to Premium benefits.
11. Maximum Upload Speed
SiteGround is powered by Google'smost efficient processors and its SG Optimiser system.
SiteGround Pricing and Promotions
SiteGround Hosting plans offer a comprehensive solution for the needs of the web project, either through web hosting, wordpress, wooCommerce or in the cloud.
| Service Offer | Monthly Price | Savings |
| --- | --- | --- |
| StartUp Plan | $3.99 | 73% off |
| Growbig Plan | $6.69 | 73% off |
| GoGeek Plan | $10.69 | 73% off |
SiteGround Promotions
With SiteGround you can get 73% savings on shared hosting plans that include Webmail, CloudFlare CDN licenses, free SSL certificate. Free domains for one year, cpanel optimization, backups among other resources.
SiteGround Payment Methods
SiteGround accepts the following as direct payment methods:
Credit Cards: VISA, MasterCard, American Express and Discover.
Paypal and Wire
Payment methods may vary by region.
Disadvantages of SiteGround
Additional and Premium Pricing
After being a Hosting that relates quality-price, as for the acquisition of migrations, domains, premium resources the price can be high.
SiteGround Web Hosting Conclusion
SiteGround hosting company, established in 2004 in Bulgaria, has become one of thetop-rated options in user reviews. For more than a decade they have been developing smart solutions with innovative technologies.
They use secure account isolation in Linux containers for lightweight and secure virtualization. The introduction of Let's Encrypt SSL certificates provides users with excellent means to prevent cyber attacks.
SiteGround features afully managed service, ideal for large and small web projects. With a simple interface with its own control panel plus the integration of cPanel and multisite management applications such as WordPress.
Its excellent technical support, 24-hour availability, powerful resources and ultra-fast response times make it a good hosting option. SiteGround's 3 shared SiteGround plans are suitable for any project, however, the Premium options provide more power but the cost is higher.
Alternatives to SiteGround Hosting
Other options in hosting providers that provide valuable resources to manage a website, you can acquire them in the following table:
Top 5 Hosting Services in 2023
SiteGround Hosting Datasheet and cFeatures
| Features | SiteGround Hosting |
| --- | --- |
| Hosting | |
| Price from | $2.99 |
| | View offer |
| Shared hosting from | $3.99 |
| Hosting cloud desde | $100.00 |
| VPS hosting price | - |
| Warranty | 30 days |
| Server location | Different countries |
| Disco | SSD |
| CPU cores | 2 |
| Charging time | 1.614ms |
| Control panel | sPanel |
| Disk space | From 40GB |
| RAM memory | From 4GB |
| Wordpress? | |
| Website builder? | |
| Web migration included? | |
| Free domain? | |
| Free SSL? | |
| | View offer |
Frequently Asked Questions
✅ What Is SiteGround?
SiteGround is a WordPress-backed hosting provider backed by WordPress with more than 2 million users. It has points of presence on four continents in more than 10 countries. It is characterized by speed, innovation and security.
✌ Why choose SiteGround?
The SiteGround's plans allow to the Web integral solutions with innovative technologies, optimizing the way to manage through easily accessible and usable resources.
✨ What are the benefits of SiteGround?
All SiteGround shared plans allow a free domain for one year, unlimited email accounts, free CDN, unlimited traffic. In addition, for large companies cloud plans are the perfect solution.
💰 What is the price of SiteGround?
The StartUp plan is priced at $3.99 per month; the GrowBig plan costs $6.69 per month. On the other hand, the GoGeek plan is $10.69 per month. In each of the plans you will be able to access a discount of 73%.
⭐ What Other Hosting Providers Are Recommended?
We at
Hosting Dolphin
have taken the task of selecting for you a list of other hosting providers for you to make your choice: In the following list, you will find the reviews of the best hosting on our website:
🔍 What Hosting Related Content Can I Know?
If you want to know more information about the world of
Web Hosting
, we invite you to continue browsing our website, where you will find articles such as:
This has been our summary about SiteGround Hosting, we try to be as objective and sincere as possible so that your decision when choosing this provider is the right one.
If you have suggestions or any comments you want to make about this review you can leave your comment below, we also invite you to review more of our web hosting reviews. Thanks for staying with us.