Hostinger Vs SiteGround Which one is BEST for you?
Which is the best web hosting service to host your project? At Dolphin Hosting we wanted to make a comparison between Hostinger vs SiteGround. The objective is to evaluate their features and find the right service for each project.
Definitely, Hostinger takes a big lead due to its incredible services with a quality-price ratio, even adding a free option. In other words, it has everything the customer needs.
However, SiteGround offers a friendly and really easy service for beginners, especially for its technical support.
To find out which provider is the best we invite you to follow along with us to discover the verdict of this contest.
🏆 Winner: Hostinger Hosting
Comparison: Who gives more?
In order to give consecution to the duel between Hostinger Vs SiteGround it is necessary to make a comparative analysis of each of its features. Starting from their performance, uptime, plans, prices and extra components.
Hostinger has a big lead in the contest, with its great price-quality offers. However SiteGround continues to excel in other areas, matching its competitor's quality and speed.
It should be noted that SiteGround offers optimizations and resources to have an excellent online store. From this perspective, Hostinger looks like the big winner, because of its qualities and resources for a simple web. Let's see in the following table the characteristics of these providers.
View Offer
View Offer
Global Performance
4.9 / 5 🏆
4.8 / 5
Uptime
99.9%
99.9%
Features: Basic Plan
Premium Shared Hosting:

Storage: 100 GB SSD
Bandwidth: Unlimited
Number of Websites: 100
Free Domain: Yes
Email Accounts: 100+
Free SSL: Yes

Price: $2.49 / month

StartUp:

Storage: 10 GB SSD
Bandwidth: Unlimited
Number of Websites: 1
Free Domain: No
Email Accounts: Unlimited
Free SSL: Yes

Price: $2.99 / month

Features: Premium Plan
Business Shared Hosting:

Storage: 200 GB SSD
Bandwidth: Unlimited
Number of Websites: 100
Free Domain: Yes
Email Accounts: 100+
Free SSL: Yes

Price: $3.99 / month

GrowBig:

Storage: 20 GB SSD
Bandwidth: Unlimited
Number of websites: Unlimited
Free Domain: No
Email Accounts: Unlimited
Free SSL: Yes

Price: $4.99 / month

Support Quality
Ticket

24/7 Phone

Online Chat

Email Support

Chat waiting time: 5 minutes

Ticket

Phone 24/7

Online Chat

Email Support

Chat waiting time: Immediate

Hosting Types

Shared
WordPress
Cloud
VPS: Linux and Windows
CyberPanel Hosting

Shared
WordPress
Reseller
WooCommerce

Control Panel
hPanel
SiteTools
Overall Performance
In the previous table you could know some general details with a comparator tone between Hostinger and SiteGround, but it is necessary to emphasize some features. These items will be useful to crown the hosting provider that can boost your website, with a good quality-price ratio.
Will Hostinger be superior to SiteGround? Find out with these indicators which is the best hosting among them.
a. Upload Speed
It is important to focus on the technical functions of the Hosting to decide who will be the winner between Hostinger VS SiteGround. We want to start with the performance and loading speed, which are percentages and uptime, which improve or affect the user experience on the page.
To get load speed data and percentages we contracted the cheapest shared Hostinger and SiteGround hosting plan. Then, we installed and published the same WordPress website on both hosting. During 2 weeks we performed tests in GTMetrix, here we present you our results.
As for Hostinger, each of its technological features is designed to improve the loading time, thanks to its servers. In this way, Hostinger is a fast hosting provider compared to SiteGround, the loading speed shown in GTMetrix was 1.0 seconds.
Also, Hostinger maintains an exceptional response time and the uptime last month was 99.9%. This data contrasts with SiteGround, which is slow compared to Hostinger.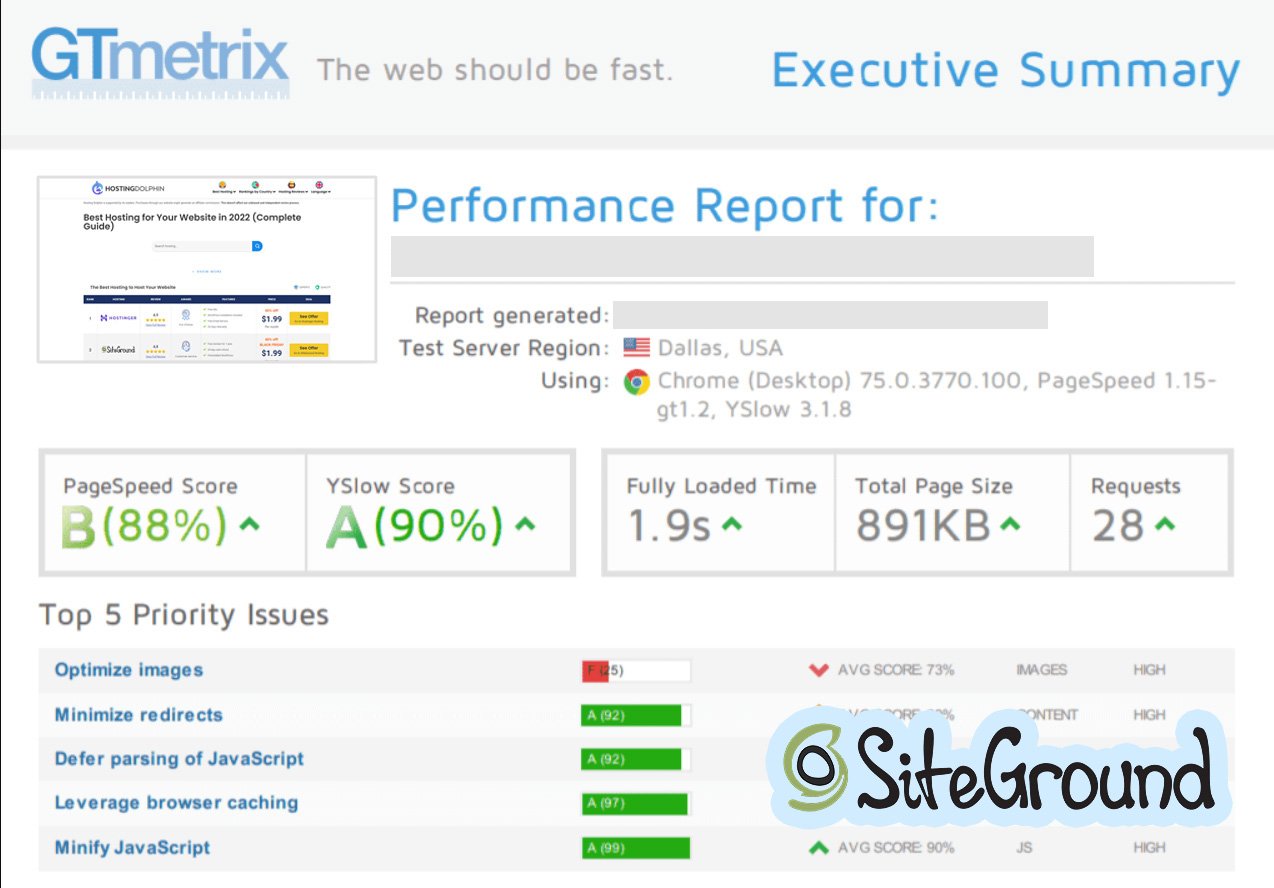 SiteGround's loading speed in GTMetrix was good but below Hostingera, loading speed of 1.9s for Siteground. Other interesting data was the uptime in the last month was 99.9%, according to the opinions of professionals these metrics could make you lose customers.
🏆 Winner: Hostinger Hosting
b. Server Location.
A second factor to continue with the comparison between Hostinger Vs SiteGround, is the location of the servers, it is valid to comment that a server located near the country or region of your customers can speed up load times. Therefore, we analyze how accurate is the location of Hostinger and SiteGround.
First of all, SiteGround and Hostinger servers have SSD storages and the best technological architecture to offer in order to run a weekly blog or a company.
Hostinger allows you to increase the speed of your sites and reduce loading times by hosting your project close to your target audience. To do so, Hostingeroffers you Hostinger servers in 7 countries:
U.S.A.
United Kingdom
Lithuania
Lithuania
Singapore
India
Brazil
At SiteGround you have the same advantage as Hostinger, choosing from 7 servers located in the region or country of your target audience. However, if you are in Latin America, you may not find a nearby location. These are the SiteGround servers in 7 countries:
USA
United Kingdom
Spain
Netherlands
Germany
Australia
Singapore
All in all, you can choose from 7 locations in both hosting providers; however, Hostinger offers you more coverage in their server locations.
🏆 Winner: Hostinger Hosting and SiteGround.
c. Ease of Use.
SiteGround is known for being friendly to new users, both in tools and control panel, offering an optimized platform with everything you need to boost your first project.
Both Hostinger and SiteGround have their own control panels, which are easier to use than the popular cPanel. Both providers feature Spanish versions of their control panels.
As for SiteGround, its control panel "Site Tools" presents improvements compared to cPanel, offering great functionality, customization and simplicity. Even so, it does not include an automatic application installer.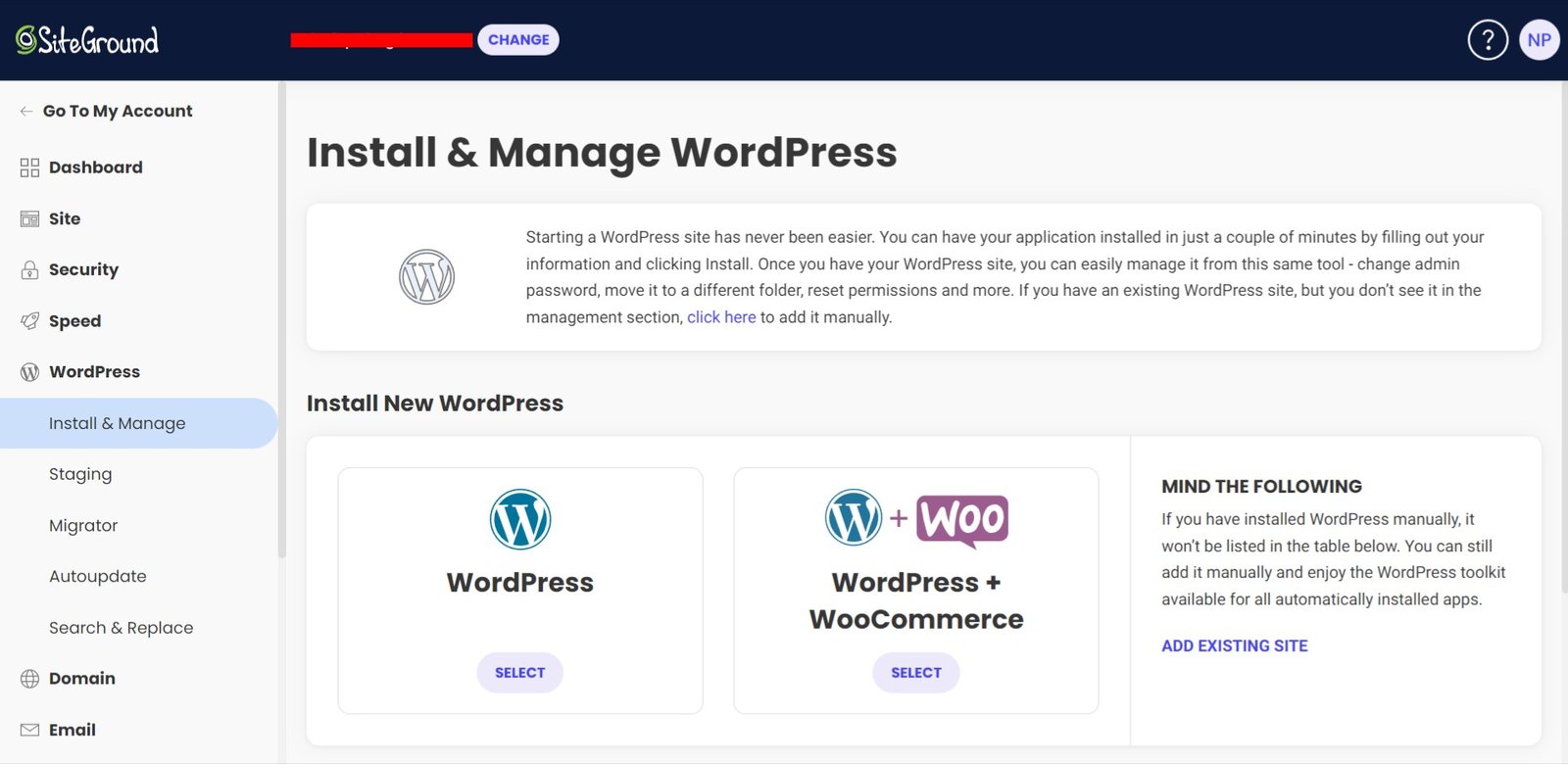 In this feature, Hostinger does not take the lead in its control panel interface, despite using its own hPanel control panel, it lacks simplicity and functionality. Although it allows you to integrate hosting with cPanel or CyberPanel VPS.
So, in interface and ease of use for beginners, SiteGround is the winner. But if you want advanced options, Hostinger is the one.
🏆 Winner: SiteGround Hosting
Quality Support
Hostinger and SiteGround offer 24/7/365 support in different languages, either: English, Spanish, Turkish, Italian, Mandarin, among others. Hostinger offers email and live chat support in your native language.
On the other hand, SiteGround offers more options to communicate with the technical support or sales team, such as telephone support, ticketing and live chat. In both providers you will have trained staff to answer your questions or solve your problems.
To evaluate the speed, quality and friendliness of SiteGround's and Hostinger's technical support, we asked questions at both providers and got useful results. At both providers you have to wait a considerable time to get an answer.
SiteGround took 5 seconds to respond and was the one who did the best in dealing with our question, while Hostinger took around 35 seconds to resolve the doubts. However, while waiting for answers, you can read FAQs, blogs or tutorials.
In short, SiteGround has an expert hosting support, friendly, fast, helpful and with a good satisfaction rate. Likewise, Hostinger excels in quality, professionalism and staff training, but is not as friendly or fast.
🏆 Winner: SiteGround Hosting
Security
An important aspect to choose the winning hosting between Hostinger Vs SiteGround, is which provider has the best security. Both providers have free SSL certificates, DDoS protection, anti-spam filtering, firewalls, among other security features.
The providers are constantly monitoring the servers to avoid technical failures with scanning software and dedicated solutions. But what differentiates Hostinger from SiteGround? The difference lies in the fact that SiteGround offers more security options for hosting larger projects.
For a better understanding let's look at some aspects of Hostinger and SiteGround security to properly assess this feature:
a. Server Security
SiteGround offers good server security measures in its plans, such as Web Application Firewall, Anti-Bot System with artificial intelligence or a Site Scanner to monitor the server for an extra price.
However, Hostinger includes a powerful PHP security and protection mod with the Suhosin advanced protection system and hardening.
b. Backups
At Hostinger backups will depend on the plan you choose you will get weekly or daily backups. On the other hand, in SiteGround all their plans incorporate daily backups, to protect your content.
c. Domain privacy
To prevent Spammers and cyber criminals from accessing your domain information: name, address, codes, among others, Hostinger and SiteGround offer an additional domain privacy service.
At Hostinger the service costs $5 per year, while at SiteGround you can get the service for $12.
In sum, although SiteGround is a provider with certain expensive services, it offers greater security coverage and redundancy, which surpasses Hostinger.
🏆 Winner: Hostinger Hosting
Pricing Table
Hostinger offers great services at the best price, while SiteGround can be expensive in the eyes of many specialists. To get an overview of the rates of these services we offer you the following table, where the type of Hosting and the prices of their plans are evident.
🏆 Winner: Hostinger Hosting
Service
Hostinger
SiteGround
Shared Hosting
Single Shared Premium: $1.99/month

Premium Shared Hosting: $2.49/month

Business Shared Hosting: $3.99/month

Startup: $2.99/month

GrowBig: $4.99/month

GoGeek: $7.99/month

VPS Hosting
VPS 1: $3.49/month

VPS 4: $9.99/month

VPS 8: $77.99/month

–
Cloud Hosting
Cloud Startup: $9.99/month

Cloud Professional: $14.99/month

Cloud Enterprise: $29.99/month

JumpStart: $100.00/month

Business: $200.00/month

Business Plus: $300.00/month

Super Power: $400.00/month

Dedicated Hosting
–
–
Conclusion: Which is the Best Provider for you?
After comparing the features of Hostinger Vs SiteGround, it's time to decide who is the winner and the best hosting provider for you.
🏆 Winner: Hostinger Hosting
So, Hostinger is the winner of this versus, that's why it is considered one of the best hostings in the world. Its excellent price-performance-quality ratios, unlimited features, own control panel, LiteSpeed web servers, data centers with strategic locations, makes it the right provider for thousands of websites.
Even though, SiteGround has some features that surpass Hostinger, it has not been able to make it to the top of our top, due to its somewhat high prices. But it is still an appropriate choice for web stores, enterprise sites or more complex sites.
In short, if Hostinger manages to stand out in different areas, that's why it is part of our selection, it works both for personal blogs, WordPress optimized platforms or large-scale projects.
SiteGround stands out for its friendly customer service, integrations and optimizations for a high quality web service. The cards are on the table! We hope you find this Hostinger VS SiteGround comparison helpful in deciding which provider works for your project.
FAQs: Frequently Asked Questions
🏆 Hostinger Vs SiteGround - Which provider wins the battle?
Hostinger is the best hosting if you are looking for an affordable but reliable option. It offers an intuitive backend to manage your server, with basic security features, above average website performance and excellent uptime of 99.99%.
🌐 Which Hosting works best with WordPress?
Hostinger offers plans with services and features best suited for using WordPress. It uses powerful LiteSpeed servers, advanced security options and a simple and intuitive control panel for beginner users.
👓 Which Hosting is easier to set up?
Both have an intuitive and user-friendly control panel that helps you set up your website in minuteswithout any programming or server management knowledge.
🔒 Hostinger vs SiteGround - Which one has better security?
Hostinger offers slightly better security, as all its plans cover basic requirements such as SSL certificate, 2FA, automatic backups, DDoS protection and internal server security optimizations.
🤔 ¿Hostinger y SiteGround utilizan cPanel?
No, both hosting providers have their native control panel systems. Hostinger offers a hPanel, which is quite similar to cPanel in terms of functionality, as does SiteTools from SiteGround.
⭐ What Other Hosting Providers Are Recommended?
We at
Hosting Dolphin
have taken the task of selecting for you a list of other hosting providers for you to make your choice: In the following list, you will find the reviews of the best hosting on our website:
🔍 What Hosting Related Content Can I Know?
If you want to know more information about the world of
Web Hosting
, we invite you to continue browsing our website, where you will find articles such as: