Kinsta Hosting: Pricing, Ranking, Reviews and Opinions
What would your dream website look like? If you imagine it with top speed servers, momentum, automated administration and availability Kinsta is the hosting for you. The WordPress hosting provider founded in 2013 brings together more than 23,000 companies worldwide that bet on change and speed.
Kinsta serves over 128 countries, with 29 data centers, 99.9% uptime with guaranteed performance and 30,000 GB of daily traffic. It's time to redefine web performance with high-end solutions for enterprise or high-traffic sites.
Pros And Cons Of Kinsta Hosting
Pros
High speed
Integrated monitoring
Global network
Unlimited basic migrations
Easy management for WordPress
Daily and automatic backups
Cons
Prohibited WordPress plugins
High prices
No support for additional CMS
Kinsta Hosting Plans and Offers
Reasons to Choose Kinsta Hosting in 2023
Three major reasons stand out for preferring Kinsta: speed, uptime, features, and server location. In terms of speed the load times are favorable benefiting SEO resources and search engines.
The uptime is practically 100% and promises a money back guarantee when the rate drops below 99%. Kinsta's features give any website a professional look and feel thanks to WordPress optimizations.
Kinsta facilitates monitoring and metrics of the website or tools provided from cPanel. It provides troubleshooting resources with APM analytics that identifies plugin and performance issues.
Finally, the solutions tailored to the user's needs is the most compelling point to prefer hosting services. It is ideal for creative web agencies, enterprise clients, e-commerce and multi-site sites.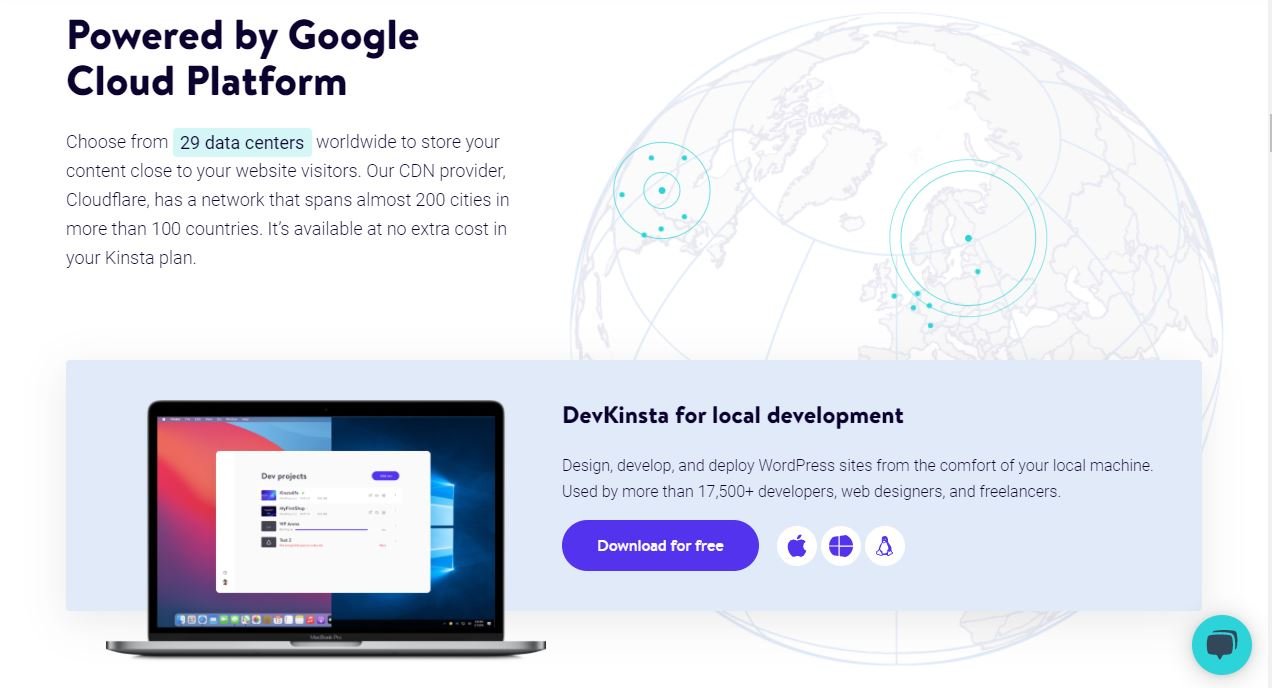 Kinsta Hosting Services in 2023
The services provided by Kinsta are characterized by optimized, great technological infrastructure and fully functional. Among the most popular are:
The top-notch infrastructure saves time and money in managing a WordPress-powered website. It is built on the best that Google has to offer, with top-tier networking, C2 virtual machines and speed manageable from cPanel.
Avoid performance issues with WooCommerce hosting, which is guaranteed to increase revenue and achieve SEO and ROI strategies.
Powered by Google Cloud Platform and WordPress specialists, it provides innovative solutions for managing a network of websites. Simplicity, performance and speed define the multisite service; you can manage it from cPanel.
Secure and Enterprise Hosting
A secure and scalable service for businesses that need instant tools with world-class privacy protocols. Designed in collaboration with Google Cloud and Cloudflare for better protection.
Kinsta Hosting Analysis and Features
a. Quality of Support
Specialized technical support is determinant for choosing a hosting service, Kinsta has an efficient support quality. The support agents communicate with the users frequently to indicate the news or errors in the configuration: DNS or server.
Feedback from users and webmasters praise Kinsta for its comprehensive commitment to the customer. The modes of communication with the support appear after registration and consist of live chat, telephone service and email.
The responses from the support team are respectful, clear and fast, with a response time of a few minutes. They work 24/7/365. It offers a help center with frequently asked questions to solve general doubts with step-by-step guides, available in 8 languages.
b. Ease of Use
An easy interface that provides exactly what the user needs, from the first steps in Kinsta evidences a simple system, quick activation, which does not require extensive knowledge.
The control panel or cPanel facilitates the management of the web, reducing the need for technical management for web management. Therefore, you can download cPanel to have a pleasant and intuitive experience within Kinsta.
Kinsta has developed a platform for WordPress that takes care of creating and configuring WordPress automatically. Thanks to this integration the use of cPanel is not so necessary, however, if you want to install it the knowledge base can guide you.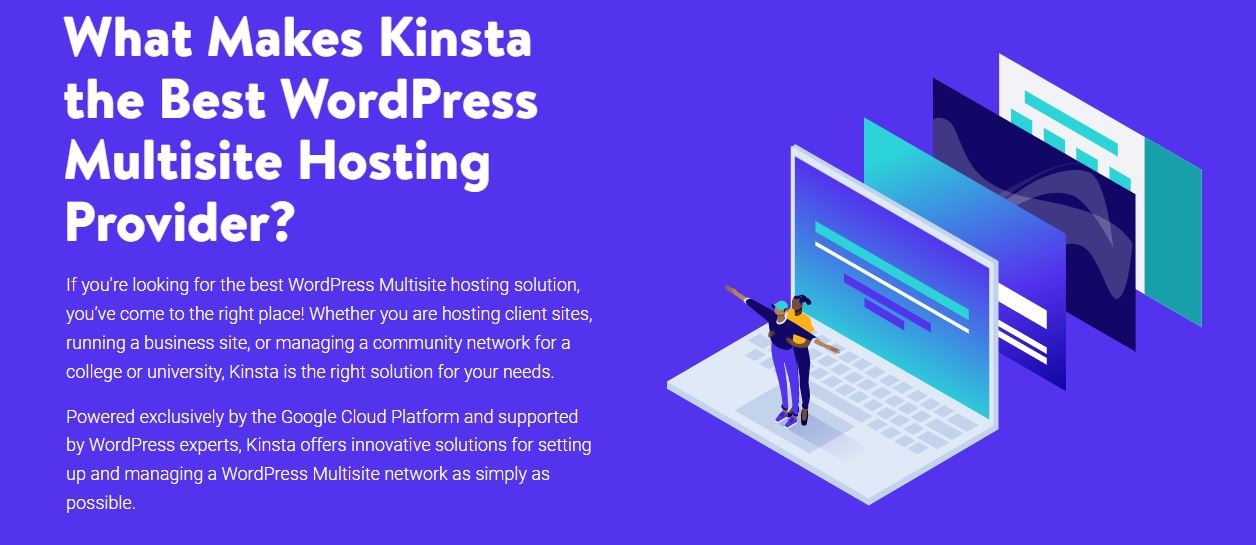 In general, it is an interface developed by designers whosimplify IT functions through user experience.
c. Storage
Within the optional components of Kinsta you can find an element to enhance the technological infrastructure: the CDN. These are responsible for storing in cache, certain data of a website such as images, videos, texts in proxy servers distributed in different geographical areas near the server.
It favors the storage predetermined by the hosting, which employ the latest generation resources such as SSD disks. Among the plans it is possible to find 10 GB SSD in basic or starter Kinsta packages; 20 GB SSD in pro packages.
In business plans it is normal to find a storage between 30 GB up to 60 GB SSD, finally, in hosting services for companies the storage is between 100 GB and 250 GB SSD.
d. Domain Names
The digital address for your website called domain is important for the identification of the brand on the internet or who operates each site. Unfortunately, Kinsta does not register or integrate free domains in its plans. However, it offers you some solutions.
Toregister the domain Kinsta invites you to visit Google Domain, this way it will be easy to integrate Google for mail options. One of the advantages of this alternative to register a domain is the free DNS service of high quality and high class that integrates the service.
Although choosing a top-level domain is a complex decision, Kinsta's knowledge base offers some articles for guidance.
e. Databases
The operation of the web depends largely on databases and log management software. Therefore, databases are integrated into the optional components of Kinsta to facilitate some tasks.
In WordPress a database makes it possible to run the website and stores website or visitor data. Some data that is stored in the databases are:
Organizations, Categories and Tags
User Comments
Configurations, settings and theme plugin.
Kinsta's system for processing databases in WordPress "MariaDB" used to manage large fields of information.
f. Transfer
For file transfer Kinsta provides an FTP client, either Cyberduck or WinSCP that you can manage from the control panel or cPanel. It supports 10 simultaneous FTP transfers for uploading files to the WordPress media library or data.
This way, it is possible to upload files without the need to integrate WordPress programs or components. For large files there is a maximum transfer rate, which depends on the upload size.
So, with FTP access you can upload massive files without additional steps or upload files to the media library. A wide range of options you can learn from the Kinsta help center.
g. Mail
Kinstadoes not provide basic tools of a hosting, it focuses on a single WordPress product, so no cPanel implementation is necessary. Also, email is not included in the standard resources, however, you can hire it with another provider and manage it from Kinsta.
Within the knowledge base there are different guides to manage Gmail email accounts either from Webmail or advanced configurations. You can learn how to send large capacity files via mail, options to compress or store in the cloud due to the help provided by the hosting.
h. Applications
Add-ons for content management systems in Kinsta guarantee certain advantages for a website managed in the control panel or cPanel. One of the novelties of hosting is theintegration of applications or add-ons that favor SEO in content management.
They serve the purpose of finding pages with high potential, repairing broken links, arranging the structure of the site. The add-ons for Kinsta allow an SEO audit to lead the project to success in search engines.
In other words, these are tools that cover everything from the content to the optimization of the website. Some Plugins such as Yoast SEO prevent the excessive use of keywords.
i. Multisite
On pro plans and above Kinsta supports multisite WordPress installations, if the user has a basic or starter plan you can upgrade. They do not allow this feature in starter packages because it is necessary to integrate additional plugins and support for optimal performance.
The multisite shares the same network of configurations, installations and database, that is to say, a single installation could create a dozen websites. To install the multisite function, it is necessary the attention of technical support or professionals in the area, due to certain complications.
If you decide to choose a multisite with subdirectory, the Kinsta team will contact you to execute certain rules suitable for the operation of subdomains.
j. SSL Certificate
Kinsta offers free SSL certificate and support for all users at no additional cost and on a customized basis. In addition, it integrates Cloudflare, allowing for an automated Secure Sockets Layer security protocol.
It has wildcard support for hosted subdomains, with instant activation.
The free SSL support has customization for each installation or website, however, it is important that the certificate is compatible with wildcard domains. This is to provide a proper installation.
Kinsta Hosting Pricing and Promotions
Kinsta offers a variety of plans that adapt to the user's needs to manage a website with professional solutions. Each of the plans has innovative features and resources is recommended to read in detail. To know the prices we invite you to review the following table.
| Service Offering | Price | Savings |
| --- | --- | --- |
| Starter | 30 monthly | No discounts offered |
| Pro | 60 monthly | No discounts offered |
| Business 1 | 100 monthly | No discounts offered |
| Enterprise 1 | 600 monthly | No discounts offered |
Kinsta Promotions
Each hosting plan includes free migrations and hacking support, as well as SSD space according to the site traffic. Optimized options with the alternative to choose to pay monthly or yearly.
If you have a problem in the first 30 days you will have a money back guarantee.
Kinsta Payment Methods
Payment methods may vary according to the region where the user is located, however, there are popular payment methods, among them:
Credit and Debit Cards: Visa, Mastercard, Discover and American Express
Wire transfers
ACH for annual subscriptions
Kinsta Hosting Disadvantages
Prohibited WordPress plugins
In Kinsta you can only install WordPress, no other CMS is accepted, however, to maintain security prohibits some add-ons provided in its help center. Among them Caché LiteSpeed, BackWPup, P3 Profiler among others.
At Kinsta you get what you pay for and each service is provided with great quality, however, it is not the most economical host.
Kinsta Hosting Web Hosting Conclusion
Kinsta is a specializedhosting provider for WordPress, the technological infrastructure reveals a quality about the website. Power, performance and optimization are revealed in hack fix, maintenance modes for malware removal.
Caching combined with CDN automates information processing. User reviews before Kinsta are beneficial, categorizing their service as secure, fast and reliable.
It is ideal for online stores or sites dedicated to business using WordPress, each technique and resource provide excellent results for the growth of the project. Although its prices are high, and not suitable for everyone, it is worth acquiring its tools.
Alternatives to Kinsta Hosting
Top 5 Hosting Services in 2023
Features summary of Kinsta Hosting
| Features | Kinsta |
| --- | --- |
| Hosting | |
| Price from | $30 |
| | View offer |
| Hosting Starter desde | $30 |
| Hosting Business desde | $100 |
| Hosting Agency desde | $300 |
| Warranty | 30 days |
| Server location | Worldwide |
| Disco | SSD |
| CPU cores | Consult |
| Charging time | 980ms |
| Control panel | MyKinsta |
| Disk space | From 10GB |
| RAM memory | Consult |
| Wordpress? | |
| Website builder? | |
| Web migration included? | |
| Free domain? | |
| Free SSL? | |
| | View offer |
Frequently Asked Questions About Kinsta Hosting
✅ What is Kinsta Hosting?
Kinsta is a WordPress hosting provider founded in 2013, with a global network to serve more than 128 countries. It provides world-class managed and optimized resources.
👌 Why Choose Kinsta?
Among the reasons to prefer it, the speed, technological capacity, managed and unlimited resources through the control panel or cPanel stand out.
🔥 What are the benefits of Kinsta?
Among the benefits of Kinsta are almost 100% availability, 30,000 GB of daily traffic, plans that adapt to your needs.
❤️️ What is the price of Kinsta?
Kinsta's plans vary according to the resources it provides, with prices ranging from $30 for basic packages to $1500 for advanced ones.
🚀 How to Install Kinsta Hosting?
To install this service you must make your registration on the WordPress server through MyKinsta. The panel will provide you with the tools to perform your installation and set up the configuration in a few simple steps, as if you were doing it with cPanel.
⭐ What Other Hosting Providers Are Recommended?
We at
Hosting Dolphin
have taken the task of selecting for you a list of other hosting providers for you to make your choice: In the following list, you will find the reviews of the best hosting on our website:
🔍 What Hosting Related Content Can I Know?
If you want to know more information about the world of
Web Hosting
, we invite you to continue browsing our website, where you will find articles such as:
So much for our review of the Kinsta web hosting provider, we hope this analysis will be useful when deciding if it is the right choice for your online project.
In case you are not convinced in Hosting Dolphin we have a wide variety of content on the best Web Hosting today, thanks for reading us!