Best Joomla Hosting: Price, Reviews & Opinions
Do you know how to boost your digital project with Joomla? Thousands of developers have benefited from this popular content management system. Since 2005 it has strived to provide stability, management and organization of web content.
It presents solutions for creating, managing and publishing content ranging from large companies and organizations to personal blogs. More than 3% of the entire web uses this CMS, resulting in more than two million supported websites.
You can get a website with great reputation, scalability, and ease of management through specialized hosting for the content management system. But will a Joomla Hosting be the perfect tool for a successful and stable website? Discover each of the benefits in the following paragraphs.
What is Joomla?
It is one of the most popular content management systems (CMS) among the web development community. It presents a platform with competent features: diverse extensions, multilingual, easy to use, search engine optimization.
It is a free and open source website software that facilitates the publication and management of digital content. It is based on a web framework: model-view-controller, allowing the creation of powerful applications.
It is based on a free library that manages each piece of content. These can be: texts, photos, videos, documents or any material you want to manage.
It is a versatile tool for the creation of websites, without leaving quality aside. You can create and manage: corporate pages, web portals, corporate intranet and extranet, magazines, newspapers, NGO sites, virtual stores, applications, among others.
Joomla Hosting List
We at Hosting Dolphin have taken the task of selecting for you a list of other hosting providers for you to make your choice: In the following list, you will find the reviews of the best hosting on our website:
Los 10 Mejores Hosting Para Joomla
Experts
Quality
Free SSL.

WordPress installation included.

Free Email Service.

30 Days Warranty.
Reasons to Choose Good Joomla Hosting
One of the reasons for Joomla is the flexibility of the system by supporting numerous verified extensions that you can easily install from extensions.joomla.org. In addition to the free high quality or premium templates that provide a GUI graphical user interface to change colors, layouts and features without modifying the code.
Joomla's flexible and extensible features make it easy to customize solutions with: custom layouts, language or template overrides and custom CSS.
Powerful SEO tools allow out-of-the-box access to metadata and keyword management. Plus, Mod_rewrite support for SEF URLs and even the creation of clear and consistent menus.
Each element generates an alias to access a PHP string to make the web page links accessible to the search engine. One of the advantages of Joomla is SEO customization providing optimal availability and searchability.
That is, Joomla is functional to highlight the important parts of your content among other similar sites in order to ensure technical advantages.
One last reason is the no-cost availability that the popular CMS offers, this is due to the creation and support of a community of volunteer developers. A trained staff that faithfully believes in "Free Forever Open Source Solutions" i.e. free forever open source software.
Therefore, you can have thousands of hours of development and programming experience for free.
Choosing the Best Joomla Hosting
The digital market is getting bigger and bigger every day with many options for all types of websites. Most web hosting providers integrate content management tools such as Joomla into their packages.
Some companies like Hostinger, Dreamhost, Scalahost, Interserve and Bluehost offer managed solutions for Joomla. Before deciding on a provider, it is necessary to clarify certain points:
1. Quality of Support
Customer support is one of the most important points to choose a hosting for Joomla, most of them are composed of several communication channels. From conventional channels such as telephone and email to live chat or instant messaging.
The technical support of Joomla hosting providers must have a good availability, it is ideal to have technical support 24 hours a day. In addition, response times should not exceed 12 hours in order to obtain relevant information for the resolution of some aspect of the web.
2. Ease of Use
Joomla is designed to be easy, practical and simple, if you are creating your first site, with just a few clicks you will be able to configure it like a professional. You don't need to have advanced programming skills.
By hiring a Joomla hosting you can concentrate only on the essential: the content; the provider with its cutting-edge technology takes care of the technical aspects; the ease of use of this tool will allow you to have direct and simplified control of all the content offered by your website, in an organized way.
In addition, it will keep specific track of each file: multimedia, document or text.
3. Technological Requirements
Storage is fundamental to choose a hosting plan for a Joomla optimized website. Determining the scope, number of monthly visits and the size of the project will help you to have the right resources.
Some providers offer ample and unlimited storage, 99.9% load times and unmetered transfer. An accelerator with caching and the latest versions of systems such as PHP or PHP are integrated to increase performance.
In professional Joomla hosting plans you can get up to 17 simultaneous processes for optimal results and script execution.
4. Server Location and Availability
A good server will be able to provide storage and transmission of the requested content anywhere in the world, without neglecting the quality, security, power and robustness. The different Joomla hosting providers allow you to choose a local or global server.
This choice will be guided according to the needs of the digital project in order to achieve the goals of each developer. It is necessary to be attentive to the metrics and percentages to acquire a provider that is operational 24 hours a day with 99% or 100% availability.
Joomla Pricing and Promotions
Joomla hosting providers are characterized by prices that adapt to the needs of the user with plans with numerous and unlimited resources. Discover the prices of the plans in the table below.
| Provider | Pricing | Promotions |
| --- | --- | --- |
| Hostinger | As low as $1.99 per month | Up to 85% discount |
| Dreamhost | From $2.59 per month | Up to 68% off |
| Interserver | From $2.50 per month | Up to 65% discount |
Joomla Promotions
Hosting companies offer discount rates and savings that favor the user's subscription, in addition to promotions on extra resources or tools.
Hostinger has the lowest prices in the market, the discount is 85% for annual contract and several free resources.
Dreamhost offers a 68% discount, CMS like Joomla for free as well as domains
Interserver offers a free domain, all the tools and resources of the market and a 65% discount on plans and services.
Joomla Payment Methods
Payment methods may vary depending on the provider or the region where the user is located. However, certain general payment methodshave been established such as:
Credit or debit cards
Bank transfers
PayPal or e-wallets
Cryptocurrencies
How to Install Joomla Hosting?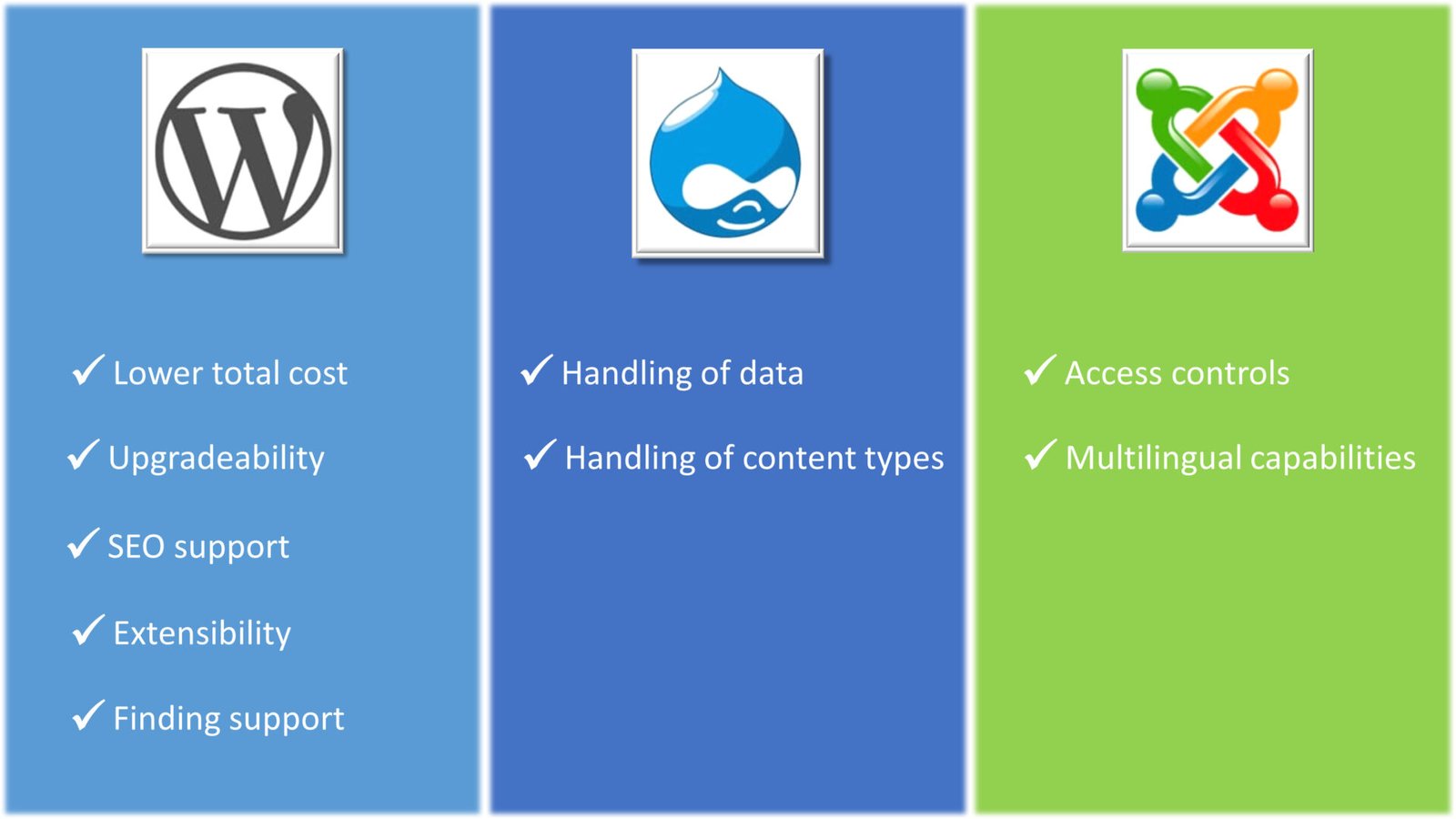 Although some providers integrate Joomla pre-installed and ready to use in their packages, in case it is not installed we propose the following sequence of steps. It is important to clarify that this software is easy to install and does not require advanced options.
The first thing you must do to install the CMS is to download the Joomla files from the official website. Then you must create a database, assign a name and password to proceed to create.
The second step is to upload the Joomla files to the FTP client in the main domain folder or public_HTML. To do this just drag the unzipped folder from your desktop.
The third step is to run the Joomla quick start installation wizard, you need to enter the domain name, email, username. In addition to indicating the basic settings such as language.
The fourth step is the configuration of the connection to the database previously created, you only need to enter the type of database, database name, user, password.
Finally, the installation interface offers you sample data that you can select, as well as optional settings for: email, database, pre-checks or recommended. And then click install to login to Joomla to start using it.
In case you have an autoinstaller you just have to select the application you want to get and in a few clicks it will be installed.
Opinions of Hosting for Joomla
For some marketing and advertising managers, this CMS is an easy way to design web pages, it is useful to manage content and update the design. However it does not integrate enough plugins like WordPress.
The technical contributors categorize Joomla as an extreme content manager, able to create sections, news, update and attach content to your page. Even so, some CMS tools have drawbacks that must be uninstalled and reinstalled for proper operation.
Webmasters consider Joomla to be a complete CMS and the new updates present a renewed and accessible administrative design with optimized image editors.
Conclusion About Joomla Hosting
Joomla is an easy-to-use content management system with a wide range of usefulness within the administration, organization and storage of unique website content. Joomla hosting is configured to host web pages created with the CMS providing performance with state-of-the-art servers.
The Uptime of most hosting providers for Joomla websites is above 99%. They include SSD disks for excellent loading speed, anti-hacking security and great technical support.
When looking for the best hosting for Joomla do not forget to specify the needs of your web project and compare the features of different providers. A key point that can be key is that the hosting works with PHP and MySQL, since if it is not compatible Joomla will not work properly.
It is important that the hosting adapts to the needs of Joomla, of your project and provides a service to achieve improvements in the web page.
Frequently Asked Questions
✅ What is a Hosting for Joomla?
A Joomla hosting is a service specialized in managing content in different formats for a website or digital business. It empowers the free Joomla software by facilitating the development, design and modification of websites in a simple and efficient way.
➡️ Why Choose Joomla Hosting?
It simplifies all the documents, multimedia material and texts of your website, providing speed and greater stability to your website. In addition, it is easy to use and install in just a few minutes, without extra resources.
🚀 What are the benefits of Joomla Hosting?
Joomla provides optimization, stability, organization and minimization of all your website data. It has a catalog of modules that allow you to create multilingual platforms, create online stores, intelligent designs and SEO optimization.
💰 What is the price of Joomla Hosting?
The prices of Joomla hosting plans vary according to the capabilities and tools available.
Dreamhost has a price per month of 2,594 per month.
Hostinger the lowest in the market offers its services at 1.99$ per month.
Interserve stands at $2.50 per month and free domain for 1 year.
All CMS like Joomla, Drupal and WordPress applications come pre-installed and free.
⭐ How to Install Joomla?
To install Joomla you must follow some steps:
Download Joomla files and create database
Access FileZilla FTP client
Run the installer
Configure the database connection
Accept the CMS installer terms
😍 Can I hire a Joomla Hosting for Free?
There are many completely free hostings, but it does not ensure a functionality as professional as a paid provider. Of course, you can purchase a completely free web hosting, but it is likely that it will not be able to cover all the needs that your project requires.
🔍 What Hosting Related Content Can I Know?
If you want to know more information about the world of
Web Hosting
, we invite you to continue browsing our website, where you will find articles such as:
This has been all our summary about Best Hosting for Joomla, we try to be as objective and honest as possible so that your decision when choosing this provider is the right one.
If you have suggestions or any comments you want to make about this review you can leave your comment below, we also invite you to review more of our web hosting reviews. Thanks for staying with us.