Guebs: Pricing, Ranking, Reviews and Opinions
Scalability and peace of mind are among the features that every user wants to find in a hosting plan. Fortunately, Guebs offers the best of both, with a flexible, easy-to-manage, web boosting service.
You can easily set up with cPanel and enjoy unlimited free benefits on hosting plans. Hosting Dolphin had the opportunity to test the Spanish provider for a year.
It has great features and services with solutions for WordPress, website including site builders. If you want to learn more about Guebs we invite you to read our full review.
Pros and Cons of Guebs
Pros
Free migration
Unmatched speed
Multiple data centers
Reliable infrastructure
Access to cPanel
Free SSL Certificate
Cons
Technical and complex terms
High prices
Restrictions on basic and higher plans
Guebs Offers and Plans
Reasons to Choose Guebs 2023
If you are thinking about choosing Guebs you should know some important benefits and reasons to hire their hosting services. One of the provider's goals is to make your website fly, but in extraordinary speed, with the use of SSD and the best optimization services for WordPress.
In the hosting resources you can find a variety of technology and PHP, Node JS, Rudy or Python applications. You can choose between the version that best suits your needs and knowledge, as well as choose the best database management system such as MySQL, MariaDB, PostgreSQL, MongoDB or SQLite.
The data center is distributed in the American and European continent with data centers in Spain, Ireland, California and Brazil. You can select the location that can favor the speed of your web site.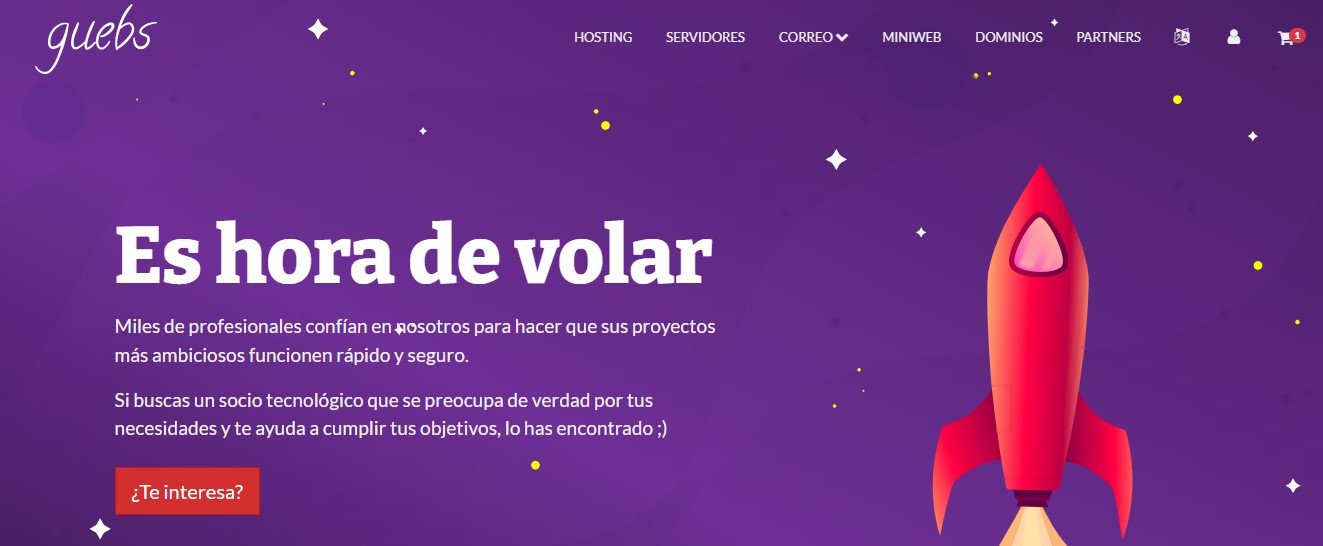 One of the reasons that has moved different users and has generated positive opinions is the management in cPanel, as well as the performance of WordPress. Even Guebs has been catalogued as the WordPress paradise since it has specialized support and ease of installation.
For over 15 years Guebs has proven to be a user-friendly interface for all users, with fast platforms, managed migrations and skilled technical support.
Guebs services 2023
Among the services offered by this hosting provider we can highlight:
Flexible, scalable and fast web hosting; a solution for different sites that adhere to your needs with different plans with performance: basic, superior and maximum.
With Guebs 100% managed servers you will have the ideal hosting for ambitious websites, with the best speed and the peace of mind of being managed.
It offers two email options: Professional and Workspace; the Guebs Professional email allows plans for those who are just starting out or for mail-intensive projects. While the WorKspace options are more advanced and aimed at improving communications.
It is the tool that Guebs offers you to create a simple, easy to use website with attractive, modern features. With an ease of use; you can take advantage of the trial version before contracting the service.
From hundreds of available options you will have the opportunity to register the domain name you like the most. It includes: contact modification, DNS servers change, domain security, URL and mail redirection.
Guebs Analysis and Features
a. Support Quality
Guebs technical service is one of the most complete in Spain, although it does not have 24-hour attention, but it has an adequate schedule. To communicate through online chat it offers you a space between 8:00 and 17:00 Madrid from Monday to Friday.
On the other hand, the telephone service is active for emergencies even outside working hours, and you can also generate tickets or write to soporte@guebs.com. Guebs offers 24-hour monitoring to detect web failures and solve them.
b. Ease of Use
Guebs is a friendly provider for every type of customer both experts and beginners with cPanel control panel and simple configuration. It has no complexities in the administration of issues related to the creation, design or maintenance of the web, however, it keeps some technical terms not very understandable.
With a version of cPanel or the provider's panel that ensures a fast, secure and above all easy interface. It also facilitates the installation of applications such as WordPress optimizing its performance and facilitating themes or specialized configurations.
In addition, it migrates the website without the need to perform mechanical tasks that can lead to the loss of information. An ambitious hosting with the ability to be suitable for experts and professionals and even beginners.
c. Storage
The total space that can occupy your network can vary according to the different hosting plans, for each type of need a suitable storage. If we make a comparative perspective you will be able to notice the difference.
In the Guebs S2 package the user gets 2 GiB, while in the S15 plan a storage of 15 GiB on SSD disks. You can also opt for the "M" plans, the M25 has 25 GiB of space and the M50 for maximum performance web pages you get 50 GiB storage.
Finally, the M100 plan gives you 100 GiB of website storage, so you can see the difference in basic, top and maximum storage.
d. Domain Names
The amount of domain name that you can access in this provider will depend on the performance of each plan. In the S12 and S15 plans and packages you will only be able to get one domain name.
The benefits start in the "M" plans, precisely the M25 package provides between 1 and 8 domain names. While the M50 and M100 plans have from 24 to 116 domains that you can host in your hosting account.
It is worth mentioning that the plans do not come with a free domain name included, it is necessary to register it and pay the full annual cost.
e. Databases
Guebs covers your database needs by providing quality and variety in each of its plans. You can choose between SQlite, MySQL, PostgreSQL or MongoDB management systems.
In the S2 plan you will only have a single database, in the S15 plan 3 databases; but, in all the "M" hosting plans the databases are unlimited. You can manage them from cPanel and add the system of your choice for additional costs.
f. Transfer
Guebs data transfer is a benefit for every web hosting plan, so users will have unmetered web traffic. However, it takes power to understand data transfer.
That is to say, when purchasing a basic, superior or maximum plan will not limit monthly transfers, but relevant restrictions will be made in case of excesses. It is recommended to read your excess consumption policies for further knowledge.
g. Mail
Guebs email solutions adapt to the needs of your website, whether you make intensive use of email. Or you want Webmail administration.
If your business does not require so many mail solutions you can opt for the S2 hosting option; otherwise all plans offer unlimited emails. Similar to previous cases, they are related to performance: basic, superior or maximum.
h. Applications
All Guebs plans include an installer in the cPanel or control panel of the provider. In Softaculous you have the opportunity to choose from over 200 applications in one click, with greater ease and immediacy.
One of the best benefits of Guebs is WordPress optimization, supporting WordPress performance. Offering premium and free themes and even guaranteeing a specialized WordPress support.
Other WordPress specialized features offer additional performance service for 19 € and enhanced security. In addition, you can install other CMS like PrestaShop Joomla, Drupal.
i. Multisite
Guebs accepts hosting multiple sites on the same hosting account, except for the basic plan you can create limited websites. Starting with M25 plans you can create up to 8 websites.
In M50 plans you can create up to 50 websites and in the maximum plans up to 100 websites; if these options are not enough you can host even more with additional services.
Still, subdomains at Guebs are unlimited, as well as pointed domains or aliases.
j. SSL Certificate
All Guebs plans offer free SSL certificate on all hosted domains with 100% validity. In this way, you will be comfortable and safe in the security of web data.
Also, you can purchase additional services within the official website to choose a certificate that is competent to your needs.
Guebs Prices and Promotions
Guebs prices have different billing cycles from an annual amount to monthly prices. In the following table you can find the hosting plans in euros.
| Service Offering | Price | Savings |
| --- | --- | --- |
| S10 | 7,99 per month | No discount |
| S20 | 9,99 € per month | No discount |
| M30 | 14,99 € per month | No discount |
| M60 | 59,99 € per month | No discounts |
| M100 | 91,66 € per month | No discount |
Guebs Promotions
One of the negative points of Guebs is the lack of promotions and discounts on their hosting plans. Although you can access unlimited or free resources, it does not offer a savings plan. Still, it has a free trial with no strings attached.
Guebs Payment Methods
Currently the provider offers the following payment methods:
Bank transfer
Debit or credit card
Direct debit
PayPal
Some options are not available in all regions.
Disadvantages of Guebs
Some aspects that are catalogued as disadvantages in this provider are the technical support that does not include a 24 hours a day attention. In addition to not having promotions or discounts on plans.
Some of the terms implemented can be a bit confusing for users, as well as the restrictions in the basic and superior plans.
Guebs Hosting Conclusion
Guebs has stood out for its flexibility, scalability and peace of mind, users have valued its services. But is it the right one for your site? To try to answer this question, we will tell you about our experiences.
After a year of using the Hosting M25 plan with superior performance, although its prices are not the cheapest, the quality of service is worth it. Especially the technical support is excellent, with fast response time and resolution capabilities.
During our time with Guebs the support advised us on various aspects of our site. The host design is comfortable and accessible, delivering on its promise of being intuitive and efficient. One of the cons of Guebs is that some resources and tools not included in the plan tend to increase in price without discounts.
Overall, it can be a bit restrictive and complicated, but it is one of the best options in support, web solutions and WordPress optimization. It is recommended for small, medium and large projects thanks to its different plans.
It's time to get your website off the ground with a competent and up-to-date hosting provider like Guebs.
Alternatives to Guebs Hosting
Top 5 Hosting Services in 2023
Guebs Hosting technical specifications and features
| Features | Guebs Hosting |
| --- | --- |
| Hosting | |
| Price from | 3,33€ |
| | View offer |
| Shared hosting from | 2,99€ |
| Dedicated hosting from | 41,58€ |
| VPS Hosting from | 41€ |
| Warranty | 15 days |
| Server location | Spain |
| Disk | SSD |
| CPU cores | 1 |
| Charging time | 500ms |
| Control panel | cPanel |
| Disk space | From 20GB |
| RAM memory | From 1GB |
| Wordpress? | |
| Website builder? | |
| Web migration included? | |
| Free domain? | |
| Free SSL? | |
| | View offer |
Frequently Asked Questions About Guebs
✅ What is Guebs?
Guebs is a Spanish hosting provider with more than 10 years of experience in web resources. Composed of thousands of professionals who are responsible for making a website an ambitious and successful project.
It is a hosting designed for smart professionals with cPanel management and CMS optimization such as WordPress.
✌ Why Choose Guebs?
There are reasons why this hosting provider has been one of the most purchased, firstly, variety of technologies and loading speed. Secondly, because of the user-friendly interface, each of its platforms is designed for users of all educational levels.
Finally, the availability of the servers and the quality technical support, there will always be a trained staff ready to solve your needs.
👌 What are the benefits of Guebs?
Among the benefits that you can acquire in Guebs are the optimizations for WordPress being recognized as a paradise for the CMS. The administration in cPanel is another of the benefits, in addition to the managed tools such as migrations and configurations choosing the version you want of PHP, Python, NodeJS or Ruby.
💰 What is the price of Guebs?
Guebs prices are presented in Euros and dollars due to the internationalization of the provider. Among its most popular plans are
S2 3,33 € per month
S15 6,00 € per month
M25 12,99 € per month
M50 47,42 € per month
M100 89,99 € per month
🚀 How to install Guebs?
The installation of Guebs Hosting is really simple thanks to the specialized technical support, they will help you download the necessary software. In addition, they will give you more information to configure the server for the first time, from domain registration, DNS configuration to CMS installations, database creation and login to the website.
⭐ What Other Hosting Providers Are Recommended?
We at
Hosting Dolphin
have taken the task of selecting for you a list of other hosting providers for you to make your choice: In the following list, you will find the reviews of the best hosting on our website:
🔍 What Hosting Related Content Can I Know?
If you want to know more information about the world of
Web Hosting
, we invite you to continue browsing our website, where you will find articles such as:
Many projects nowadays are carried out in a CMS, since they facilitate the creative process. If this is your case, it is highly recommended that you hire a CMS hosting.
You can always learn more about the world of web hosting to find out which type of hosting is the most suitable for your project.