BlueHost: Pricing, Ranking, Reviews and Opinions
Want to keep your website up and running? With BlueHost you can do it efficiently and securely. This independent hosting provider guarantees a top-quality service for your digital project.
Millions of users have already joined BlueHost, betting on quality services and web optimization. In their plans they offer free domains, cPanel integration, drag and drop WordPress generator, one-click WordPress installation.
BlueHost was created to make millions of developers proud by creating with their powerful tools a website with style, professionalism, speed, security and availability. However; will BlueHost be ideal for your web project? Let's take a look at its features.
Advantages and Disadvantages of Bluehost
Pros
They have an easy WordPress installation tool.
It has email and free SSL certificate.
It has storage solution with built-in cache to speed up your website.
Custom hosting panel and CPanel.
Free domains for the first year and unlimited websites.
Cons
Technical support services are in English only.
Plus plans may be more expensive at renewal.
Additional cost for migrations.
Bluehost Offers and Plans
BlueHost Services in 2023
Since 2003 BlueHost surprised the US markets, decades later it continues to offer quality services with innovative tools.
This hosting in its basic plans includes, a website, 50gb storage, free domains for 1 year, BlueHost WebMail accounts and completely unlimited bandwidth.
BlueHost WordPress Hosting
BlueHost presents WordPress as the best of its platforms within its web hosting services. It offers 100 million visits and space for basic 30gb plans, free domain, IP address, SiteLock Pro and SiteLock CDN.
This particular BlueHost service has 2 cores in basic plans, 30gb space, 1Tb bandwidth and RAM from 2GB.
BlueHost Dedicated Hosting
If you have a website with a high traffic flow and your project is large and ambitious, this BlueHost service is for you. It has a physical and virtual server for the exclusive use of a single client. It has 4 cores x 2.5 GHZ and 1TB storage.
BlueHost CPanel and Tools.
BlueHost has a practical and very intuitive panel, which allows a better development of your website. It allows you to add domains, install applications, access your website's security settings and much more.
BlueHost Analysis and Features
1. Quality Support
BlueHost is characterized by customer service and offer varied plans for each existing website and tailored to customer needs. Not for nothing is positioned in the third place of best hosting.
Among the most notable features of BlueHost, is its attentive and prompt response to users' web problems. BlueHost provides speed and solid results in the face of any vicissitude, from any of its communication channels 24 hours a day, 7 days a week.
It has 4 different technical support channels, in addition to the guides and virtual assistant with unlimited information for your website. Undoubtedly, BlueHost has an excellent technical support service with an extensive knowledge base full of articles and audiovisual material.
2. Ease of use
Having years of experience and trajectory in the market, BlueHost has an easy to use interface. Whether you are a beginner or an expert in web hosting, BlueHost offers an enjoyable experience within its platform.
The BlueHostcontrol panel integrates cPanel that makes possible great configurations in the management of the web. Through cPanel you can configure backups, download add-ons and applications to facilitate administration.
Also, with cPanel it is possible to install WordPress to create a website in a few minutes thanks to the advantages of the Bluehost developer. They also provide the website with powerful plugins that are easy to acquire to manage an online store.
3. Storage
BlueHost is intended for medium-sized websites, but is prepared for larger and more ambitious projects. It is even geared towards those who are also about to start a new website or blog.
Among its plans and tools you will find services geared for any capacity and demand of your website. With very economical payments and promotions that fit any budget and client.
From the most basic plans and with very affordable prices, you can get storage from 30GB and virtual servers for your own use. For websites with higher demand and more traffic volume, you can find storages up to 50GB.
It is worth mentioning that all BlueHost storage plans come with unlimited SSD storage. This guarantees a fluidity and speed to your website that your customers will surely appreciate.
4. Domain names
The domain name allows you to translate the IP addresses identifying your website. At BlueHost you can host your website by choosing from over 30 domain options, activating a hosting account or registering the website through separate domains.
For the basic plan price of $3.95 per month you can choose from the most popular domain extensions in web hosting, BlueHost facilitates domain registration in new accounts or user areas. You can also choose domains according to region and country.
With BlueHost you can register a new domain for free for one year or use one of your own. If you decide to purchase a domain with BlueHost you can go for a special one like:
.com
.Online
.Site
.Space
.Blog
.Org
.Tech
.Store
.Inf
5. Databases
For small and medium sized projects BlueHost offers a fairly admissible database compared to other web hosting services. For much larger projects this option may not be your strong point, however it will be at an acceptable level.
All BlueHost plans and services offer between 20 or more database listings that are useful for start-up sites. For more demanding websites this may fall a little short, but it is compensated by other services that will make BlueHost worthwhile.
Even so, BlueHost allows you to create databases and the plans and services it offers guarantee a good positioning within the network. Remembering that to have a successful web site we need trajectory and reliability, an attraction that BlueHost has.
6. Transfer
In the BlueHost domain transfer section, there are additional charges, but with great advantages for your web page. The domain transfer cost will depend on the plan you want to choose for your website.
Remembering that BlueHost has very competitive and affordable prices for all types of customers and websites. So when joining BlueHost be sure to check out all the plans and promotions they have.
All transfer services are independent of the plans purchased for your website. BlueHost has rates ranging from $100 and up to move your entire website to the platform.
7. Mail
BlueHost has professional emails available, which will help your website stand out in credibility. In addition, your BlueHost email address can match your domain name.
BlueHost offers apps and tools services for your professional email. Which you can view from any mobile device or PC to better manage every detail.
It has completely free use for a whole month and then you can renew it to continue enjoying its benefits. BlueHost offers affordable prices for the acquisition of emails anchored to your website.
8. Applications
BlueHost has at your disposal a wide and versatile list of applications that you can download, install and manage from cPanel. The applications and tools are designed to innovate the website with optimized environments for WordPress or any CMS.
Among the list of applications that you can access from cPanel are:
WordPress
WordPress Themes
Page Speed Grader
Webly
Joomla
Drupal
Among other optimized applications, which you can install with one-click functions via cPanel. Properly configured applications allow for automatic updates, ensuring the security of your site and your customers.
9. Multisite
The different plans offered by BlueHost allow you to create a large number of websites, sometimes unlimited. To manage the websites, it is necessary to install WordPress Multisite via cPanel, an advanced function to manage a network of sites.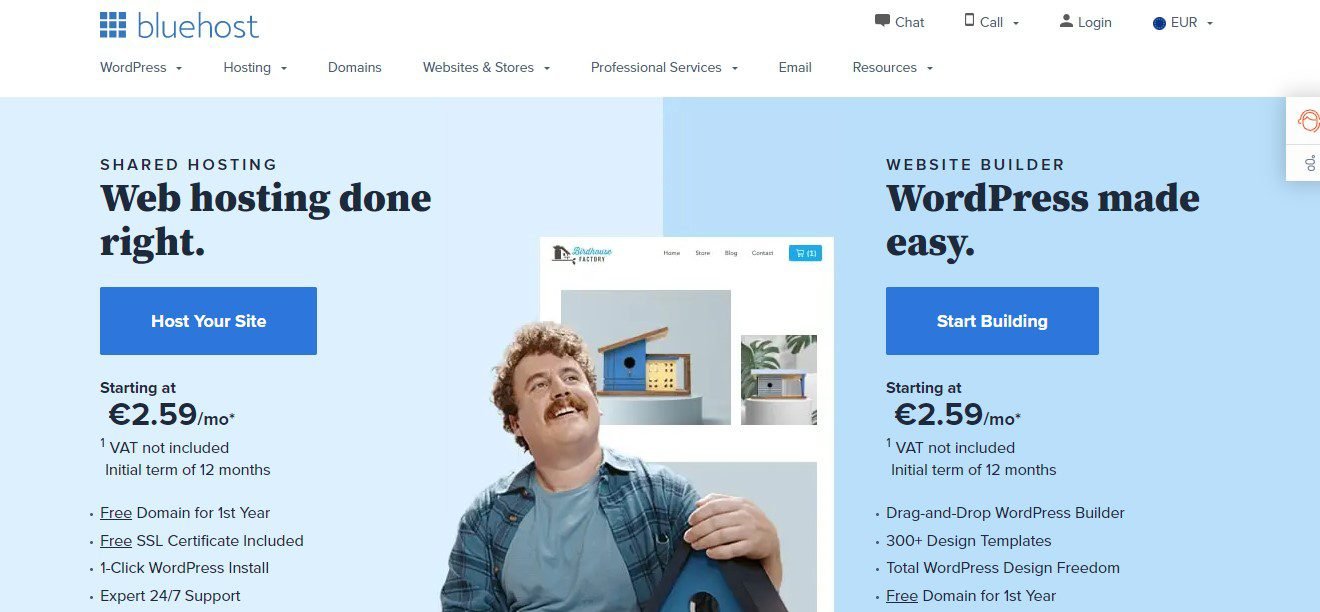 It is recommended to activate WordPress only when the characteristics of the different sites are similar, allowing users to manage their own subdomains on their primary site.
Multisites are specifically for creating and innovating new projects, all within the same account. BlueHost offers this alternative of having several projects centralized in a web room and canceling only one hosting.
10. SSL Certificate
BlueHost provides in its plans a free SSL certificate for one year for each account, they wanted to provide each user with security. Since 2018, having an SSL certificate has become a must, if you don't have it, the site will be cataloged as "not secure" and you will lose visitors.
In this way, BlueHost cares about users by providing privacy in confidential data, electronic sales, personal information. Thanks to the encryption technology that BlueHost has developed.
BlueHost Prices and Promotions
Bluehost is characterized for having plans that relate quality-price, because each one is a novelty for the web.
| Service Offer | Monthly Price | Savings |
| --- | --- | --- |
| Basic Plan | $2.95 | $9.99 |
| Plus Plan | $5.45 | $13.99 |
| Choice Plus Plan | $5.45 | $18.99 |
| Pro Plan | $13.95 | $28.99 |
BlueHost Promotions
BlueHost promotions are varied in their different packages, most of them have similar features. Such as: WordPress installed, drag and drop functions to create websites, domain and SSL certificate free for one year.
Also, access to Office 365 for 30 days, automatic backups and plan renewal rates with automated pricing.
Payment Methods
Cash account with immediate activation
Credit Card
Paypal account with immediate activation.
BlueHost Hosting Disadvantages
BlueHost is intended to offer a fairly generalized service ranging from micro to macro, with optimal results. However, when a website has a very high traffic and customer demand, it can fall short.
Additional services such as plus plans tend to have slightly higher costs and tend to go up at renewal time.
BlueHost Web Hosting Conclusion
In short, BlueHost has positioned itself among the best hosting thanks to the excellent features of its services. That they have provided over the years great resources for expert developers and beginners, making new projects grow.
BlueHost offers your digital project plans that fit your requirements with hosting storage for all types of web. In addition to having an easy to access and use interface that guarantees you the results you are looking for without much effort.
It guarantees a response time of 3 seconds delay to accompany you and help you in the web management. BlueHost' s agents make sure to take care of the tiniest details of the site through their excellent technical support and extensive knowledge base.
User reviews praise BlueHost's plans for their outstanding tools and software, versatile designs, speed and 99.98% availability. BlueHost continues to lead with the best plans and services for your digital project.
Alternatives to BlueHost Hosting
Other options in hosting providers that provide valuable resources to manage a website, you can acquire them in the following table:
Top 5 Hosting Services in 2023
Bluehost Technical Data and Features
| Features | BlueHost Hosting |
| --- | --- |
| Hosting | |
| Price from | $2.95 |
| | View offer |
| Shared hosting from | $2.95 |
| Dedicated hosting from | $79.99 |
| VPS Hosting from | $18.99 |
| Warranty | 30 days |
| Server location | United States |
| Disco | SSD |
| CPU cores | 4 |
| Charging time | 1.578ms |
| Control panel | cPanel |
| Disk space | From 50GB |
| RAM memory | From 4GB |
| Wordpress? | |
| Website builder? | |
| Web migration included? | |
| Free domain? | |
| Free SSL? | |
| | View offer |
Frequently Asked Questions about Bluehost Hosting
✅ What is BlueHost?
It is a web hosting company with over 20 years in the market, responsible for promoting, positioning and consolidating your website or digital project. It has extensive experience in the digital market offering plans and hosting services for websites and blogs.
👌 Why choose BlueHost?
It tops the lists of the best digital web hosting companies in the world. It has a long and evolving trajectory in the market and continues to grow. In addition to having the most competitive prices in relation to quality and services.
✨ What are the benefits of BlueHost?
It has the best connection times and on average achieves it 99.9% of the time and is in the top 5 best web page load times. All of its services have Unlimited SSD hosting.
Their prices are the lowest in the market starting with the basic plan from $2.95 per month. In addition to including your own domain for one year free.
➡️ What is the price of BlueHost?
BlueHost has 4 plans for websites, among them are:
Basic Plan starting at $2.95
Plus Plan $5.45
Choice Plus Plan $5.45
Pro Plan starting at $13.95
⭐ What Other Hosting Providers Are Recommended?
We at
Hosting Dolphin
have taken the task of selecting for you a list of other hosting providers for you to make your choice: In the following list, you will find the reviews of the best hosting on our website:
🔍 What Hosting Related Content Can I Know?
If you want to know more information about the world of
Web Hosting
, we invite you to continue browsing our website, where you will find articles such as:
This has been our summary about BlueHost, we try to be as objective and sincere as possible so that your decision when choosing this provider is the right one.
If you have suggestions or any comments you want to make about this review you can leave your comment below, we also invite you to review more of our web hosting reviews. Thanks for staying with us.