Anaconda Web: Pricing, Ranking, Reviews and Opinions
Having technological support and advice is a benefit that few hosting providers dare to incorporate. AnacondaWeb comes to revolutionize the hosting market with data centers, cloud servers and technological continuity.
For over 20 years they have been dedicated to offering users the best tools to become a great website. This Chilean company has been characterized by its redundant infrastructure, climate control backup power and an uptime of 99%.
Given these attractive properties Hosting Dolphin has taken the mission to check how feasible it will be to host with this provider. If you want to discover each of the positive and negative points we invite you to read the following material.
Advantages and Disadvantages of AnacondaWeb
Pros
Redundant infrastructure.
Backup power and air conditioning.
24/7 technical support and attention.
24/7 service monitoring.
99.95% uptime.
The best connectivity.
Cons
Not all plans include a free SSL certificate.
Unreliable website builder.
Anaconda Web Offers and Plans
Reasons To Choose AnacondaWeb in 2023
AnacondaWeb is one of the providers with the best connectivity and infrastructure in Chile, over 20 years they have perfected themselves to offer the best. If you are looking for reasons to choose a provider, this company has a wide range of reasons that will surely impress you.

One of the main reasons is the permanent monitoring, that is to say, the web traffic, memory and CPU are tracked in real time by means of graphs. This indicates that the provider is aware of the aspects of the web in order to avoid loss of information or problems.
Also, the provider has an autonomy and energy continuity of up to 36 hours in its UPS backup generators. AnacondaWeb supports each of the user's projects in this way they present Mipymedigital a solution with options for Graphic Design, programming, security, optimization and infrastructure.
AnacondaWeb wants to become your best technological ally, so in addition to hosting plans with cPanel and WordPress optimization includes complementary services. These services include IT consulting, webpay integration, among others.
AnacondaWeb Services 2023
An alternative to take your brand to the internet, AnacondaWeb's web hosting features cPanel access and resources to easily install WordPress. It has a disk space that adapts to the user's needs.
Depending on your goals there is a solution for you at AnacondaWeb you can create and develop educational websites, online stores, business or property sites.
Personalize your brand and protect it with a domain name, the provider presents options to search and register easily.
If you want a service with stability and security, a virtual private server Cloud will surely be the ideal choice. This service guarantees the rapid growth of websites, it is equivalent to a part of a server, but at a fraction of the cost.
Finding which tools favor your website should not be a task left to chance with this additional service AnacondaWeb will recognize how to improve aspects of your site.
If you have an online store, surely the online payment methods with credit or debit card will be your best ally. This service provides the integration of payment methods to receive easy money.
AnacondaWeb Analysis and Features
a. Support Quality
AnacondaWeb's technical support has three purposes: to answer questions, solve doubts and read suggestions. For this purpose, they have provided some information channels that have been well received in the users' opinions.
This technical support has been characterized by always being available to the customer, for this their platform works 24 hours a day. Their response times are short, you will have a consistent and accurate response in minutes.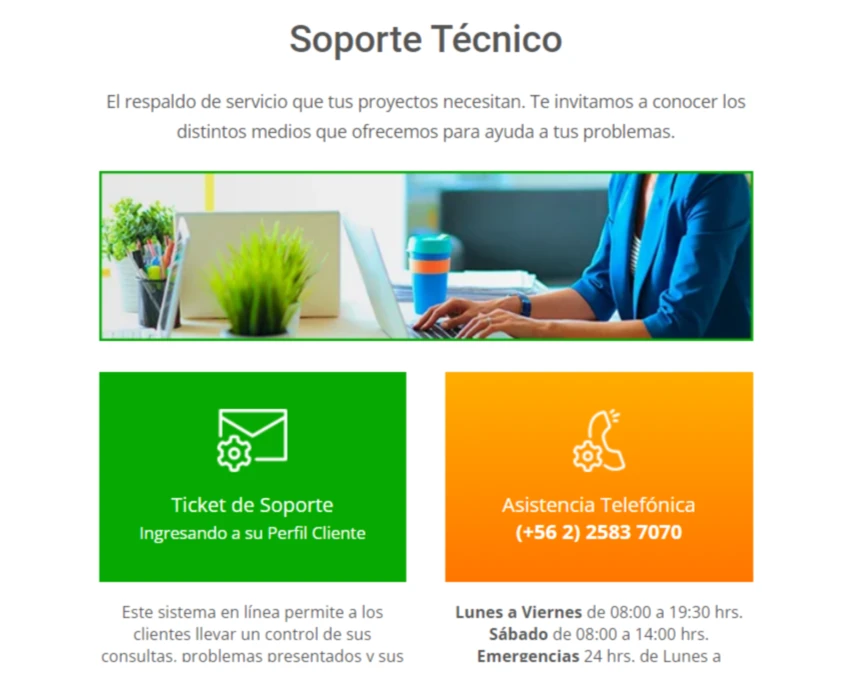 To communicate you can send an email, generate a ticket, communicate via WhatsApp or call their phone numbers (+56 2) 2583 7070 or (56 2) 224 8000. If you are near you can go to their offices for personalized attention (Avda. Libertador Bernardo O'Higgins 580, office 605, Santiago Centro, Chile).
b. Ease of Use
In AnacondaWeb it is essential that the customer has the best tools to make your administration a smooth accompaniment. In the standard plans we offer access to cPanel for a more user-friendly management of resources.
With this version of cPanel users can have a fast interface and manage the AnacondaWeb service like an expert without the need for technical knowledge. You can view the statistics of your websites in the control panel, generate email accounts, databases, install WordPress plugins among other functions.
In general, AnacondaWeb presents an ease of use that will depend on the hosting plan because they are organized by complexity and capacity.
c. Storage
Storage is one of the features that users have not been so happy with, because it is below other providers. That is to say, in its most advanced plan you will be able to obtain the same capacity as in simple plans of other companies.
Even so, this capacity is achieved through the quality-price ratio, for a better understanding we present you the 4 storage options. In the Presence plan you will get 1GB on disk, while in the basic plan you will get 2 GB of storage.
For the standard plan the storage increases to 4 GB and in the last professional plan it will be 10 GB. If you want more web space we suggest choosing a VPS Cloud or dedicated hosting.
d. Domain Names
In domain names AnacondaWeb offers a free domain in each of its plans. This is an advantage, because with the price of the plan you will already have a domain name to register and configure in cPanel.
Also, you will only be able to host one domain in all plans, this is a limitation for customers who want more extensive products. Therefore, it is necessary to choose other web solutions.
AnacondaWeb presents a domain search engine to protect your brand on the Internet where you can choose from the following extensions:
.com
.net
.org
.info
.dotname
.en
.biz
.tv
.in
e. Databases
The databases is one of the resources that is increasing in each of the web hosting plans. In the first plan of AnacondaWeb "Presencia" you only have access to one database.
While in the "Basic" plan there are 5 databases, in the AnacondaWeb "Standard" package there will be 10 databases. Finally, in the "Professional" plan you are offered 20 databases.
You will be able to manage the databases from cPanel creating third party accesses, protecting the information with passwords and users.
f. Data Transfer
Regarding data transfer, the provider makes a beneficial leap, offering unlimited monthly web traffic. This way you will not have to worry about the amount of information or visitors you have.
With this unlimited feature it will be easy to grow a project without being worried, however, unlimited is not infinite. It is recommended to read the policies in order not to exceed the limits.
g. Mail
The email accounts as well as the databases increase along the hosting plans. In the "Presence" plan you will only have 10 email accounts, while in the basic plan you will have 20 email accounts.
In the "Standard" plan the amount increases to 50 email accounts and in the "Professional" plan 200 email accounts. You will have access to Webmail in addition to creating or configuring from cPanel.
h. Applications
In AnacondaWeb the applications can be installed from cPanel. This gives you the opportunity to optimize and customize the web add-ons. Among the most popular applications is WordPress, this allows you to manage the content of the page.
Other applications you can install are:
Joomla
Magento
WooCommerce
Drupal
With cPanel's online wizard the installation of applications is done in less time and with just a few clicks.
i. Multisite
Multisite options are not an advantage in AnacondaWeb because most of the plans allow you to host only one website. In the professional plan you will be able to have the option to create a multisite enabled.
This is a disadvantage of the AnacondaWeb service because only one web hosting plan allows you to create several projects in the same account. However, the professional plan has the ideal storage and bandwidth capabilities to perform this task.
j. SSL Certificate
Most AnacondaWeb plans include a free SSL certificate, with this certificate users will have the confidence and security of the most sensitive data. SSL certificates have a compatibility with google search engines and maintain encryption in almost all browsers.
However, only those who choose the "Standard" and "Professional" web hosting plans will have free SSL certificates, the rest you will have to hire the additional certificate.
AnacondaWeb Prices and Promotions
AnacondaWeb presents in its plans prices in the local Chilean currency, so that it is accessible to access one of its hosting packages. In the following table you will be able to know its most popular prices.
| Service Offer (Web Hosting) | Price | Savings |
| --- | --- | --- |
| Presence Plan | CLP$ 29.990 | |
| Basic Plan | CLP$ 39.600 | |
| Standard Plan | CLP$ 59.400 | |
| Professional Plan | CLP$ 81.900 | |
AnacondaWeb Promotions
In the promotions of this Chilean hosting provider are integrated some tools that are vital for the management of a web server. That is to say, with the purchase of a plan you will have a .com domain and free technical support.
In addition to the unlimited tools that some plans present, except for "Presencia".
AnacondaWeb Payment Methods
The payment methods offered by AnacondaWeb are varied to give the user the opportunity to choose the one that suits their means, among the most named are:
Bank Transfers
Visa or Visa Electron
MasterCard
American Express
RedCompra
OnePay
Disadvantages of AnacondaWeb
According to user feedback the disadvantages of AnacondaWeb center around storage. Since it is not an amount that represents a significant amount of web space, the most advanced plan can easily be the basic one at another provider.
Also, there are certain resources that do not meet or capture the needs of users e.g.: the number of domain hosted in all plans is 1. The databases in the top plan only allow 20 being below other providers.
AnacondaWeb Hosting Conclusion
So should you sign up for a plan with AnacondaWeb? For a few months we were hosted with the Professional plan. To make it the most advanced web hosting plan we found their features to be basic.
The 10 GB storage space and the limited offer of domain extensions were a bit disappointing. Still, the unlimited web traffic is a great resource, during our stay we didn't have to worry about the amount of information on the site.

The email account and functions managed in cPanel did not represent a problem, instead they were in accordance with the server's promises. Among the aspects to be applauded are the option integrations for IT consulting.
In general, it is a provider that we can recommend for users who start a web project, in case you want to increase the capacity you should choose private servers for better hosting.
Alternatives to AnacondaWeb hosting
Top 5 Hosting Services in 2023
Anaconda Web technical specifications and features
| Features | Anaconda Web |
| --- | --- |
| Hosting | |
| Price from | CLP 29.990 |
| | View offer |
| Shared hosting from | CLP 29.990 |
| Dedicated hosting from | UF 5,00 / MENSUAL+ IVA |
| VPS Hosting from | UF 1 / MENSUAL + IVA |
| Warranty | 30 days |
| Server location | Chile |
| Disk | SSD |
| CPU cores | 4 |
| Charging time | 1200ms |
| Control panel | cPanel |
| Disk space | From 10GB |
| RAM memory | From 1GB |
| Wordpress? | |
| Website builder? | |
| Web migration included? | |
| Free domain? | |
| Free SSL? | |
| | View offer |
Anaconda Hosting Frequently Asked Questions
✅ What is AnacondaWeb?
Anacondaweb is a Chilean hosting provider founded in 2000, has been dedicated to offering web solutions for websites and online stores. You will be able to create an educational, corporate or property website in seconds with this provider.
✌️ Why Choose AnacondaWeb?
Anacondaweb is a provider that adapts plans for your projects, so they take your idea and digitize it offering the best advice. Also, the provider integrates a constant monitoring to prevent problems by providing support 24 hours a day.
✨ What are the benefits of AnacondaWeb?
If you bet on Anacondaweb you will have the best technological infrastructure in Chile available for your website. It has an uptime of 99.95%, which has remained constant in recent years and therefore will not suffer downtime. In addition, the provider is responsible for guiding and advising the user for proper management.
💰 What is the price of AnacondaWeb?
The provider's web hosting plans have the following prices:
Presence Plan CLP$ 29.990
Basic Plan CLP$ 39.600
Standard Plan CLP$ 59.400
Professional Plan CLP$ 81.900
🚀How to install AnacondaWeb?
To install Anacondaweb it is necessary to ask for advice from the technical service, as some specialized software is required. However, we would like to offer you a small guide:
Go to the official website
Contract the hosting plan
Enter the credentials and select the options to install the provider on your premises
Now start configuring the DNS and install the content manager
Once this is done you will be able to publish your website
⭐ What Other Hosting Providers Are Recommended?
We at
Hosting Dolphin
have taken the task of selecting for you a list of other hosting providers for you to make your choice: In the following list, you will find the reviews of the best hosting on our website:
🔍 What Hosting Related Content Can I Know?
If you want to know more information about the world of
Web Hosting
, we invite you to continue browsing our website, where you will find articles such as:
This has been our summary about AnacondaWeb, we try to be as objective and sincere as possible so that your decision when choosing this provider is the right one.
If you have suggestions or any comments you want to make about this review you can leave your comment below, we also invite you to review more of our web hosting reviews. Thanks for staying with us.