HostDime Mexico: Pricing, Ranking, Reviews and Opinions
What has been the limiting factor to obtain a managed hosting? Surely the high cost, since a high level service requires a higher investment, right? Some pioneer hosting companies deny that an expensive service is the best managed service, especially HostDime that offers a managed hosting at low cost.
The company's goal has been to help users develop their projects through the excellence of its services. Over 2 decades it has created its own infrastructure and has expanded with data centers globally.
HostDime's features are attractive, that's why we wanted to perform some tests to know in depth how good the provider is. Find out in this article what's new with this web hosting.
Advantages and Disadvantages of HostDime Mexico
Pros
Access to cPanel
Managed WordPress
Global data center
own infrastructure
24/7 support
Billing in Mexico
Cons
English-only user interface
Few basic tools
HostDime Offers and Plans
Reasons for Choosing HostDime 2023
There are certain reasons that make HostDime different, among which we can highlight the 24-hour availability of its data centers, which avoids crashes and server problems. Also, the security HostDime cares about the security and privacy of your information, thus maintaining stricter standards and security policies.
Another reason to prefer HostDime is that it maintains its own technological infrastructure with first class data centers in strategic countries. This proprietary infrastructure gives the services scalability, because as the business grows, the provider offers a new solution to grow together.
The billing system is done in Mexico, so you can download invoices from the client area. It also maintains a 24-hour technical support in Spanish.
HostDime Mexico is certified and trusted by organizations especially the Government of Mexico. Because it has been a provider that has accompanied various government campaigns in this way has a special title in the privacy of personal data transferred to different continents.
Finally, HostDime Mexico is known by Better Business Bureau thanks to the commitment to meet the satisfaction of users, in addition to try to remedy any complaint. It is an optimal hosting service with several reasons to choose their plans.
HostDime services in 2023
HostDime's dedicated servers are simple graphical environments, a solution for those who do not have so much knowledge in programming. They come installed with cPanel, interworx and Plesk. The most popular services are database, web, mail, file transfer, domain name resolution servers.
At HostDime you can create in seconds a cloud server to scale in resources such as CPU, RAM and storage in order to expand your needs resources grow with you. You can get cutting-edge hardware that includes enterprise-grade processors and the best SSDs in the industry.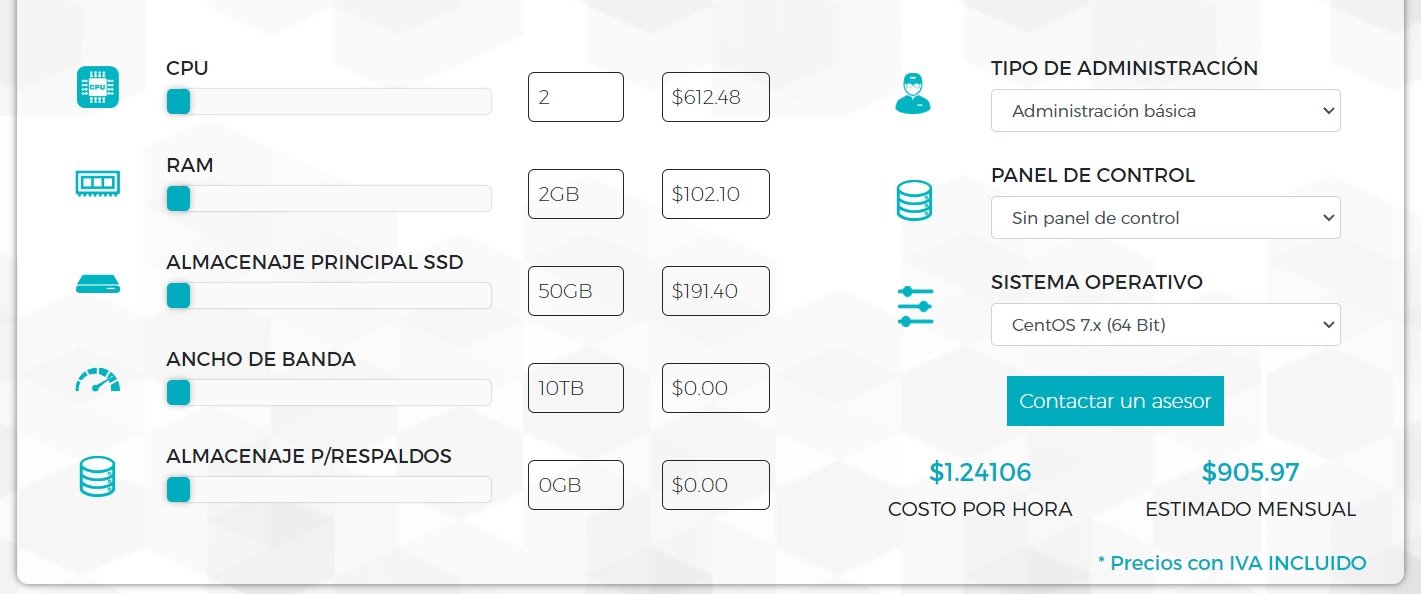 A service for those who want to place servers up to 4U in the data center, HostDime gives you the opportunity to have a conditioned place with experts, network connections and security. You can place your equipment in countries such as Mexico, Canada, United States, Holland, among others.
In HostDime you will have access to a remote backup storage configuration, this is a benefit for your project because it facilitates backups. All important server data will be stored in a secure location to avoid total loss or data corruption.
HostDime is an official license distributor of cPanel, which allows you to manage all aspects of your server. With an official cPanel license you can avoid authentication problems or limited features, you will have a beneficial control panel at your disposal.
HostDime Analysis and Features
a. Quality of Support
HostDime has a 24-hour support from Monday to Sunday where you can send your queries in their ticketing or live chat systems. In addition, it offers different phone numbers depending on which city in Mexico you are in (Guadajara, Mexico City, Monterrey) for the rest of Mexico you can call (800) 062 2380.
It has 4 contact methods as already mentioned: online chat, contact form, telephone and email. In addition, HostDime offers a knowledge base to keep users informed.
b. Ease of Use
First of all, the provider has cPanel as a control panel that facilitates various functions in WordPress or Webmail. However, when it comes to dedicated servers or Cloud hosting, the user interfaces are not entirely easy, it requires: knowledge and attention for the administration of the services.
Even so, it is easy for the installation of applications such as WordPress or plugins needed to keep the web operational.
c. Storage
HostDime Mexico is based on dedicated servers and cloud hosting so its storage is different for any of its options. In the case of managed dedicated servers the storage is 2 x 1TB SATA.
In cloud solutions the main storage ranges from 50 GB to 600 GB.
HostDime gives the option of hiring a remote space service through a SAN storage array, one of the most effective backup and recovery technologies on the market.
d. Domain Names
At HostDime Mexico domain names are not entirely an advantage, in principle because it does not offer a free domain name among its offers. You will have to go to their domain search and registration section to find among their options the extension you want.
For this purpose, it offers a list of the most popular and purchased domain names, one of the benefits of HostDime domains is that they are 100% managed. Among the domain names that you can get are the following:
e. Databases
HostDime offers MySQL databases that vary in quantity according to the hosting plan. You can create, configure and customize them from cPanel. The databases at HostDime are characterized by ease and high performance.
The advantages of HostDime databases use several layers of security to keep the data stored. In addition, the memory efficiency makes you can feel at ease with the databases generated in cPanel.
f. Transfer
The data transfer, although not unlimited, has a good web traffic to avoid technical problems. In particular, the bandwidth can vary from 10 TB to 100 TB. As it does not have unlimited data transfer, you must take into account the provider's conditions for the use of information that is transmitted from the server to the network.
Even if the space is sufficient, if you have a website with a high volume of users, it would be ideal to choose a plan with greater capacity.
g. Mail
HostDime's Webmail solutions are of great quality. Although for this you must contract additional services, especially mail filtering. You can opt for email accounts from 20 to more than 250 with benefits such as antivirus, antispam, archiving, outgoing filter.
HostDime's emails have a wide range of features, but in their plans you will have some restrictionswhether you choose a basic or advanced plan. These restrictions can be seen in the number of emails you can create daily and the number of accounts you can generate.

The email filtering provided by HostDime Mexico eliminates unwanted emails and only allows clean emails to be received. It is a GDPR compliant service which is processed from servers in America or Europe.
h. Applications
HostDime is a provider that integrates few pre-installed applications, but in each of its solutions usually integrates WordPress. But if you do not want WordPress as your content management system you can install extra applications.
From cPanel it is possible to install automatically or manually, because it usually integrates one of the most powerful application installers. Some of the applications that HostDime Mexico allows you to install are:
WordPress
Joomla
Drupal
Commerce
i. Multisite
HostDime thanks to its advanced, dedicated and cloud features allows you to host multiple websites with their respective domains. However, you can check in cPanel for WordPress Multisite to host in the same WordPress installation a network of websites.
With a multisite and WordPress integrations you can have a network of websites that are useful for a large web project. This is why HostDime emerges as a competent multisite option.
j. SSL Certificate
First of all, it does not offer free SSL certificates, but you can purchase 3 certificate options: essential, wildcard, validated EV. HostDime certificates stand out for the layers of security that they integrate, facilitating data encryption and the privacy of personal data that users can host on their platform. Among the features of HostDime Mexico SSL certificates are the following:
2048 bit certificate
Fast issuance
Compatibility with 93% of browsers
256 bit encryption
HostDime Promotions
HostDime's rates are in Mexican pesos and there are different options with billing cycles in months or years that the customer chooses to their benefit.
HostDime Promotions
In HostDime promotions are not inserted in the plans, that is to say, it does not have discounts or significant savings rates for users. Even so, they do have different seasonal coupons to be able to access discounts.
Other promotions are their resources and extra services that present discounts when purchasing a package for more than a year.
HostDime Payment Methods
Being a provider with international impact, payment methods tend to vary according to the currencies of the country. In Mexico we have integrated simple payment methods among which we can highlight:
Credit cards
Debit cards
Bank transfers
Virtual wallets
Among others
Disadvantages of Hosting HostDime
Most of the users indicate that there are 2 notable disadvantages the first one is the lack of basic resources such as domain name, SSL certificates. That, although they are within the services to be able to access them you must pay an additional cost.
On the other hand, the cPanel interface is only available in an English version, if you are not familiar with the language could cause confusion.
HostDime Web Hosting Conclusion
So, is it worth hiring HostDime's services? In general it is not a provider for all types of customers, if you are a beginner we do not recommend it. Their options are advanced and it is very easy to get lost among many dedicated or VPS plans.
In fact it does not include tools that are considered basic, to access it you must hire separate services. We had the opportunity to stay in a managed dedicated hosting. Honestly the hosting was not very dynamic, at first it was very confusing, even so, the storage space is adequate.
We did not have problems with performance or speed, but it is difficult to understand its functions. Therefore, if you are not a knowledgeable user it is advisable to choose another provider. If you are a more knowledgeable user we hope this host will be to your liking.
Alternatives to HostDime Hosting
Top 5 Hosting Services in 2023
HostDime-Mexico Hosting technical specifications and features
| Features | HostDime Mexico Hosting |
| --- | --- |
| Hosting | |
| Price from | MXN 490.00 |
| | View offer |
| Shared hosting from | MXN 3,940 |
| Dedicated hosting from | MXN 2,190 |
| VPS Hosting from | MXN 490 |
| Warranty | 30 days |
| Server location | Mexico |
| Disco | SSD |
| CPU cores | 2 |
| Charging time | 670ms |
| Control panel | cPanel |
| Disk space | From 30GB |
| RAM memory | From 1GB |
| Wordpress? | |
| Website builder? | |
| Web migration included? | |
| Free domain? | |
| Free SSL? | |
| | View offer |
HostDime Hosting Frequently Asked Questions
✅What is HostDime Mexico?
HostDime is a Mexican hosting provider founded in 2001 with the objective of providing support and managed hosting at low costs. Currently it has expanded to different countries and has established a network of data centers.
✌Why Choose HostDime?
Among the reasons for the availability of its data centers which are active 24 hours a day with an uptime of 99%. Also, the strict standards to maintain the security of the personal data that the user has in its web pages.
🏅What are the benefits of HostDime?
Among the benefits you can get after hiring the services of HostDime is to create your own server to meet the needs you require. In addition to being able to choose plans that are scalable so that as the website takes off you can do it together with the resources acquired.
💰 What is the HostDime Price?
The price of HostDime's dedicated servers varies according to the server's characteristics. The initial server is between 3,940.00MXN while the most advanced is at $5,640.00MXN.
🚀How to Install HostDime?
To install HostDime we recommend you to call technical support because you must perform some essential steps such as software and plugins that support will tell you. However, you can start the account activation and basic configurations.
⭐ What Other Hosting Providers Are Recommended?
We at
Hosting Dolphin
have taken the task of selecting for you a list of other hosting providers for you to make your choice: In the following list, you will find the reviews of the best hosting on our website:
🔍 What Hosting Related Content Can I Know?
If you want to know more information about the world of
Web Hosting
, we invite you to continue browsing our website, where you will find articles such as:
This has been our summary about HostDime Mexico, we try to be as objective and sincere as possible so that your decision when choosing this provider is the right one.
If you have suggestions or any comments you want to make about this review you can leave your comment below, we also invite you to review more of our web hosting reviews. Thanks for staying with us.