Towebs: Pricing, Ranking, Reviews and Opinions
What do you look for in a hosting provider, surely the satisfaction of your goals, Towebs wants precisely the same. They work hard to keep users completely satisfied.
This is why they have perfected in different areas to offer the best webhosting service; since 1999 they have been operating to provide small and medium sized companies with unconditional support.
It has positioned itself as one of the most acclaimed providers in Argentina, so Hosting Dolphin decided to review each of its details. We invite you to read the following review to know all the details and advantages of Towebs.
Pros and Cons Of Towebs
Pros
5x faster servers
Exceptional technical support
Integrations for online stores
100+ free applications
cPanel integration
99.99% uptime
Cons
Low amount of web space
Limited databases
No free domain
Towebs Offers and Plans
Reasons to Choose Towebs in 2023
There are multiple reasons why Towebs has been preferred by thousands of customers and these become real benefits due to the cross-browser compatible integrations. This provider offers Webmaster tools, Windows components, Linux components.
One of the reasons to choose Towebs is the optimization for blogging with the ease of WordPress installation. Plus easy ecommerce and landing page options. Creating a non-website design should not be complex with Towebs you will have two website builders: Superweb and online store.
Towebs is intended for SMEs and corporations in their plans you can find the ideal solution to meet the needs and objectives of the project. But one of the most important reasons is the money-back, the provider offers 10 days trial to test the resources.
A convenient hosting where you can have different solutions in a matter of minutes and activate everything instantly.
Towebs services in 2023
An almost free solution, with all the tools and resources you need to make your first professional website. A convenient hosting service in minutes.
A personal Towebs service to boost your website with the best technology and resources to take it to the next level. It offers an optimized version of cPanel, access to WordPress, undoubtedly one of the best Argentinean promo.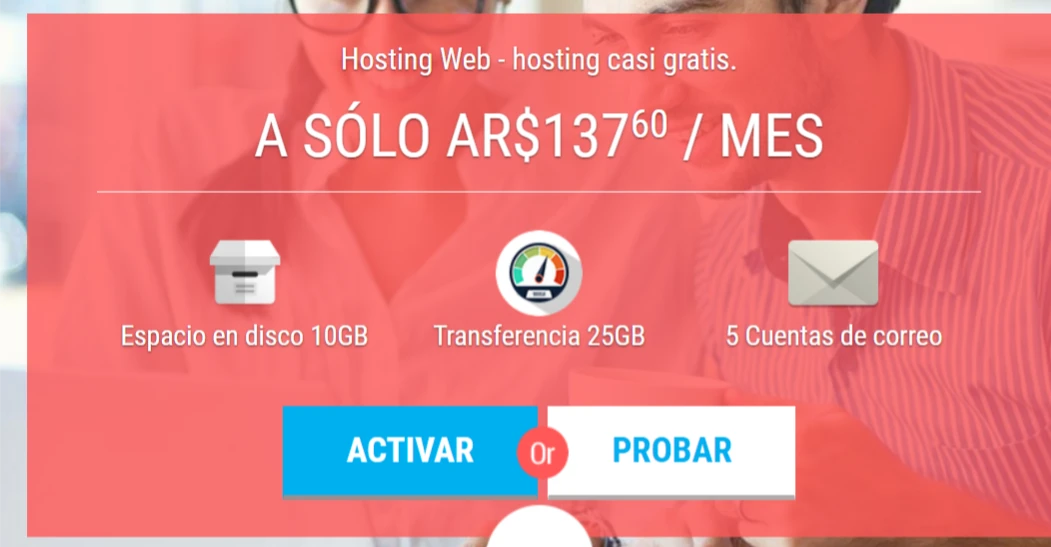 Get more power, power and speed with Cloud servers, works with TurboCloud technology for maximum performance. Improving the performance and stability of websites.
Towebs presents corporate plans for start-up companies or corporations with high traffic. Each of the solutions has features that benefit the user's objectives.
Create and update a website design, now with Towebs you can stay on top of your website with website builder integrations. Introducing "SuperWeb" which allows you to manage it fast, simple and without so much knowledge.
In addition, it integrates online store for those users with commercial provisions, it includes marketing options and direct communication.
Towebs Analysis and Features
a. Quality of Support
Towebs technical support is one of the best in Argentina, it combines 2 characteristics that customers usually look for in a provider: speed and quality of response. This is due to its trained staff, who are experts in different areas of IT and programming.
Towebs technical support works 24 hours a day, 365 days a year, through online chat, ticket generation and telephone service 011-5031-1111, online documents, videos and social networks. This way you will have the help you need at any time, saving you technical details and hassle in the future.
The response time can take from 20 minutes to 12 hours to get a satisfactory answer. It also has an area with frequently asked questions to solve general doubts.
b. Ease of Use
Ease of use is one of the principles of Towebs, because from its cPanel its control panel provides a fast, simple interface for each user. Therefore, ease of use is part of the hosting provider.
Among its options, you will be able to create and manage backups from cPanel to keep your information backed up without difficulty. Also, the activation and renewal of domains is an advantage of the ease of use because it is instantaneous and automatic.
In Towebs plans you can install applications, have optimized tools for WordPress, virus scanner. Even interactions and compatibility with Google and Gmail search engines to improve the position of the page.
c. Storage
The web hosting provider Towebs presents three plans: basic, cPanel and a cloud service, which have different storage alternatives. In principle, the disk space is not unlimited, it is limited, however, it can be suitable for new projects, small or medium-sized websites.
In its basic plan you will have 10 GB in SSD disks, which is distributed with 5 GB for the website and 5 GB for email accounts. In their cPanel plan you will have 20 GB of SSD disk storage distributed: 10GB for the website and 10 for the email accounts.
In the Cloud plans the storage amounts to 40 GB with 5 times more speed compared to the rest of the plans.
d. Domain Names
A not so positive point is that Towebs plans do not integrate free domains, even so, they facilitate the registration of these. The registration process can be found on their platforms with simple tutorials and recommendations to choose the extension that best suits the project.
Towebs is characterized by offering fast domain registrations with instant activation and you can choose between extensions:
.com
.net
.com.ar
among others.
Also, if you need to renew a domain, you will be able to do it in just a few steps with Towebs automations and from the ease of cPanel.
An advantage of domain names in Towebs is the optimization that it can bring to your project to position and customize.
e. Databases
In the databases there are some notorious differences that depend on the plan you choose, although all of them use the MySQL system. One disadvantage is the number of databases that can be generated, since other providers offer an unlimited service.
In Towebs it is not the case, each plan has a determined amount, in the basic plan it does not specify the amount of bases. However, in the cPanel plan you get 10 databases and in the Cloud plan you get 40 databases.
All the databases have the best quality to protect and store the information, and you can use cPanel for a better management.
f. Data Transfer
Data transfers in Towebs only present an "unmetered" scheme in Cloud plans. But in the rest of their plans they offer a monthly traffic that maintains a relationship with the objectives of the websites. In the basic plan for new projects, the transfer is 25 GB.
While in the personal plans or for cPanel, which is described as being for faster projects, it has 50 GB of data transfer. Finally, the cloud solution offers unlimited transfer because it is intended for advanced projects.
It is recommended to read the descriptions of each plan to choose the option that best suits your web traffic.
g. Mail
Communication and relationships with customers and employees within a web project are fundamental. In this sense, Towebs offers email accounts with the best security, filters and Webmail tools for its users.
In the basic plan you have 5 email accounts with the domain name, the connectivity of this type of email is POP3 and IMAP including the best Anti-Spam. In the cPanel plan, the amount is doubled with 10 email accounts.
The Cloud plan has 50 corporate accounts for advanced company management. Each option offers the best Towebs features and tools.
h. Applications
One of the most common questions asked by users when signing up for Towebs is the applications: How many will be available? From where can they be installed? Fortunately, the hosting provider is one of the most versatile in terms of applications and tools, offering easy and free options.
Depending on the plan you have chosen you will have a number of applications, for example, in the basic plans you have 100 applications to choose from. In the cPanel plan 150 tools and applications and in the Cloud plan more than 180 applications.

Among the applications the following are profiled: WordPress, Joomla, Drupal, Moodle, Jupyter, Magento, PrestaShop, osCommerce. All of which you can download and install from cPanel with a few clicks. Some applications like WordPress come pre-installed and optimized.
i. Multisite
Multisite may not be Towebs' forte, since the option is not included in the plan specifications. However, the idea that you can create multiple projects is not ruled out, but for this you will have to hire additional services or different domains.
One solution for hosting a network of websites under the same name is WordPress plugins. This management system allows you to manage and configure websites with ease, the WordPress Multisite plugin is a benefit for Towebs users.
j. SSL Certificate
The SSL certificate is another of the tools that Towebs does not include in its plans and you will have to buy additional purchases . However, Towebs SSL certificates offer the best encryption and data protection.
Some features you should take into account about Towebs SSL certificates are the following: they allow a better positioning of your website. You can install them smoothly, they include API for social networks, they allow you to gain the trust of your customers and visitors.
Finally, you won't have a browser compatibility problem if you purchase a certificate with this hosting provider.
Towebs Pricing & Promotions
Towebs is an Argentine hosting provider whose billing cycles are monthly and its prices are presented in the local currency. Some of the most popular rates can be found in the following table:
| Service Offering | Price | Savings |
| --- | --- | --- |
| Basic Hosting | 240,80 Ars monthly | |
| cPanel Hosting | 79,00 Ars monthly | Save 90% off |
| Cloud Hosting | 149,99 Ars monthly | Save 75% off |
| Online Store | 175,00 Ars Monthly | Save 50% off |
Towebs Promotions
Towebs promotions are varied, for each of the hosting plans a savings promotion is presented. To access them, you must contract the service for more than 6 months, promotions are not allowed in contracts less than that billing cycle.
In this sense, you will be able to save between 50% and 90% with automatic debit thanks to Towebs promotions.
Towebs Payment Methods
The payment methods are beneficial because it has a broad platform to provide the user with multiple ways, among the most common:
Credit and debit cards
Bank transfers
Online payment with PayPal
Easy Payment or RapiPago
Towebs Disadvantages
The disadvantages of Towebs lie in the storage in which it offers a maximum of 20 GB in the cPanel plan. This may be lower than other providers that offer a higher amount in their most basic plan.
Also, the email accounts, databases and transfers do not present an amount that can be used by higher level websites. Another disadvantage that Towebs users have expressed is the slow response time on live chat.
Towebs Hosting Conclusion
After describing the generalities of Towebs, we want to give you our opinion after choosing Basic Web Hosting for six months. The truth is not a bad service, but it is certainly not suitable for all types of projects, we explain why.
We found it a plan to start a project due to the space and data transfer, luckily it is very easy to change the plan to get more benefits. Although we did not have any problems with web traffic or storage, it was very restrictive.
However, one advantage was the website builder, which is great for self-managing a website without the need for a lot of knowledge. Overall, it is a recommended provider for SMBs and medium-sized websites since its features will not be able to power high-end sites.
Alternatives to Towebs hosting
Top 5 Hosting Services in 2023
Towebs Hosting technical specifications and features
| Features | Towebs Hosting |
| --- | --- |
| Hosting | |
| Price from | ARS 240.80 |
| | View offer |
| Shared Hosting from | ARS 79,00 |
| cPanel hosting from | ARS 79,00 |
| Hosting Cloud desde | ARS 149.00 |
| Warranty | 10 days |
| Server location | Argentina |
| Disk | SSD |
| CPU cores | 1 |
| Charging time | 340ms |
| Control panel | cPanel |
| Disk space | From 20GB |
| RAM memory | From 1GB |
| Wordpress? | |
| Website builder? | |
| Web migration included? | |
| Free domain? | |
| Free SSL? | |
| | View offer |
Frequently Asked Questions About Towebs
✅ What is Towebs?
Towebs is an Argentinian hosting provider that has been serving the webmaster and SMB community since 1999 perfecting its tools to have immediate activation resources. It has specialized plans for companies, corporations, site builders and online stores.
➡️ Why Choose Towebs?
Among the reasons we highlight the ease of management in cPanel and the installation of WordpRess with intelligent cache. In addition to plans tailored to the needs of customers with specialties for virtual stores and the best web hosting resources.
✨ What are the benefits of Towebs?
The benefits of Towebs promise to be a fast, secure and easy service for beginners, plus, it helps to have a first professional website. You will be able to communicate with a technical support 24 hours a day during the year and have an uptime of 99% without failures in case of failures the first 10 days you can ask for a refund.
✌️ How much does Towebs cost?
Towebs' most popular plans are in your local currency and on a monthly billing cycle:
Basic Hosting $240.80 Ars per month
cPanel Hosting $79.00 Ars per month
Cloud Hosting $ 149,99 Ars monthly
🚀 How to install Towebs?
To install Towebs you will need to enter the official website, access the customer area and request the hosting plan. Then look for the options to download to your operating system. If you can't find it, you can contact support for professional help in installing the service.
⭐ What Other Hosting Providers Are Recommended?
We at
Hosting Dolphin
have taken the task of selecting for you a list of other hosting providers for you to make your choice: In the following list, you will find the reviews of the best hosting on our website:
🔍 What Hosting Related Content Can I Know?
If you want to know more information about the world of
Web Hosting
, we invite you to continue browsing our website, where you will find articles such as:
So much for our analysis of the information and services that Towebs can offer you. We invite you to continue browsing our website to learn more about the best web hosting services on the market today.to learn more about the best web hosting on the market today.