Tropical Server: Pricing, Ranking, Reviews and Opinions
Hiring a hosting provider in times of digitalization is a necessity, but acquiring a hosting specialized in CMS is a real advantage. Tropical Server is a Spanish company that since 2006 has been dedicated to offer web solutions for Joomla, Mambo WordPress and PrestaShop.
It integrates attractive and even basic functions and tools to support the user in all the management of the website. It is designed for Spanish speakers so you will have no problem understanding their services.
It presents a support, varied web space terms, domain registration among other features that maintain quality and professionalism. But what type of project is this provider intended for, and are its benefits for everyone? Find out what advantages Tropical Server has in the following article.
Pros and Cons of Tropical Server
Pro
Fast and secure
NVMe disks
Backups every 2 hours
Free WordPress themes
Cpanel access
Automatic updates
Cons
For Spanish speakers only
Limited domains
Uneconomical options
Tropical Server Hosting Plans and Offers
Reasons To Choose Tropical Server 2023
If you are thinking of choosing Tropical Server as your web hosting provider, you should know the differentiating characteristics to take advantage of its benefits. First of all, the experience of almost 20 years that certifies it as one of the best providers that works with Open Source scripts.
Another reason to choose Tropical Server is its compatibility with the most popular cPanel control panel, which is available in Spanish. In addition to the above, the NVMe disk storage servers nestled in the best network in Europe with good continental connections has been one of the most praised reasons.
Tropical Server servers are 100% optimized for the most used Open Source Scripts such as: WordPress, Joomla, PrestasHop. Finally, the security levels with extreme hardware and software prevent the entry of third parties and interventionist attacks.
Tropical Server Services 2023
Create an optimized blog with Tropical Server's solutions for WordPress which contains the fastest and most secure servers. Combine speed + free CDN, you will get 30 days free and refund to ensure excellent service results.
We'll give you the remaining months of your contract with your current web hosting.
One of the solutions that present differentiating features compared to other hosting companies. Especially in the performance of the NVMe protocol that allows the user to develop a store with LiteSpeed, without affecting the availability.
It has been ranked as the number 1 Joomla solution in Spain, due to its fast servers where you can publish a page developed in this manager in a matter of minutes due to the combination LiteSpeed + NVMe disks.
If you are a teacher this will be the ideal solution to publish a learning website or Moodle courses with secure, reliable and stable features and environments.
The high availability cloud communication solutions with email and drive up to 100 GB compatible with different hosting providers.
Tropical Server Analysis and Features
a. Quality of Support
Tropical Server technical support is available 24/7 with trained consultants and staff able to answer your system questions, get sales advice or technical assistance. You can communicate through 3 channels: telephone, support ticket and live chat.
Tropical Server agents are professionally and expertly trained, have a friendly attitude and helpful answers. In addition, they have a help center with knowledge base, tutorials and extensive articles for almost expert training that are constantly updated.
b. Ease of Use
Tropical Server is one of the easiest Spanish providers to use, this is possible thanks to the incorporation of the cPanel control panel in Spanish. Which integrates graphical functions capable of orienting new users and being intuitive for developers and webmasters.
In addition, the inclusion of new hardware and software technologies facilitates the automation to manage the hosting account. Tropical Server is one of the hosting options that facilitates the control of WordPress even includes more than 700 free templates in all its plans.
You do not have to worry about the speed of CMS like WordPress because they are optimized with NVMe technology and ready to use to streamline and avoid manual processes.
c. Storage
Tropical Server shared CMS hosting plans have different storage solutions on NVMe disks 6 times faster than the traditional SSD. In particular, the WordPress hosting plan has 4 storage options.
The WordPress-S plan has 5 GB, while the M plan has double the storage with 10 GB. The L plan has a web space of 20 GB, the last hosting plan being the most advanced offers 40 GB.
d. Domain Names
All Tropical Server plans offer a free domain name for the first year and you can choose between: com, .org, .net, .eu, or .is. After the first year you will have to pay for a separate service.
In addition to the free domain includes unlimited subdomains and free private Whois. In the WordPress hosting plan you can host in the "S" plan only 1 domain, in the "M" plan 2 domains, "L" 5 domains and the WordPress XL plan 10 domains.
e. Databases
The databases have different characteristics according to the level of the chosen plan. The provider presents MySQL 8 databases and in the starter plans you will only have access to 1 database.
In the M plan only 2 databases and from the advanced plans "L" and "XL" you will get from 5 to 10 databases with cPanel management.
f. Transfer
The monthly data transfer is unlimited in each of the Tropical Server web hosting plans. It is important to clarify that the unlimited transfer is not infinite, you will have some daily restrictions, so it is advisable to choose the plan that best suits the project.
g. Mail
Tropical Server's email solutions can be managed from cPanel and you can create numerous accounts depending on the plan. In the basic plans you will be able to create from 5 to 10 email accounts, while in the advanced plans from 20 to 40 email accounts.
They have AntiSpam, MagicSpam and MailChannels as advanced options for better management and communication. In addition to Webmail compatibility. The number of email you can send in the WordPress plans is between 100 up to 750 in the XL plan.
h. Applications
Tropical Server concentrates on offering web hosting for content management systems such as WordPress, Joomla, PrestaShop and Moodle. These are pre-installed when you purchase a hosting account and have optimizers and constant one-click update processes through cPanel.
It is also possible to download and install applications on the hosting account to expand the options and create virtual stores, improve the blog and set up specialized configurations.
i. Multisite
The Spanish hosting provider has multi-site options in its plans, except in the WordPress S plan. We recommend you to hire from the L and XL plan to be able to host between 5 and 10 websites in the same hosting account.
In addition, you can get the WordPress Multisite plugin to help with the configuration of the websites.
j. SSL Certificate
Tropical Server's web hosting plans contain free Lets Encrypt SSL certificate which enables incredible benefits for website security and SEO. The provider's certificates are cross browser and SEO friendly.
In addition, from cPanel you can install a free, self-renewing Let's Encrypt security certificate every three months to improve search engine rankings.
Tropical Server Pricing & Promotions
Tropical Server offers different specialized hosting plans from WordPress SSD to VPS Joomla! The following graph shows the prices presented in an annual billing cycle for WordPress plans
| Service offer | Price | Savings |
| --- | --- | --- |
| WordPress-S | 89 € Year | No discounts offered |
| WordPress-M | 129 € Year | No discounts offered |
| WordPress-L | 219 € Year | No discount offered |
| WordPress-XL | 329 € Year | No discounts offered |
Tropical Server Promotions
Tropical Server promotions feature coupons with discounts, after entering the code WP102022 in your purchase you can get 10% off the hosting plan.
Tropical Server Payment Methods
Tropical Server payment methods are flexible for customers so that they can enter from different platforms or banks to purchase a web service. Among the most popular are
Bank Transfers
Credit or debit cards
PayPal
Disadvantages of Tropical Server Hosting
Despite the advantages of Tropical Server has certain drawbacks that according to the opinions of users has put them in doubt "that is one of the best hosting" is first of all, the limitations of the domains in the plans can host a maximum of 10 domains, while other providers leave these functions unlimited.
The prices are high and the resources seem to have remained static, in a market where other companies offer a superior service for the same amount. Finally, the provider is designed for Spanish speakers so it may not be available in other languages.
Tropical Server Hosting Conclusion
After describing the advantages and disadvantages of Tropical I'm sure you have the same question: Is this provider really that good? We had the pleasure to test their services for a year for the realization of a blog, we selected the WordPress L plan, it was a good investment with amazing optimizations for CMS and management.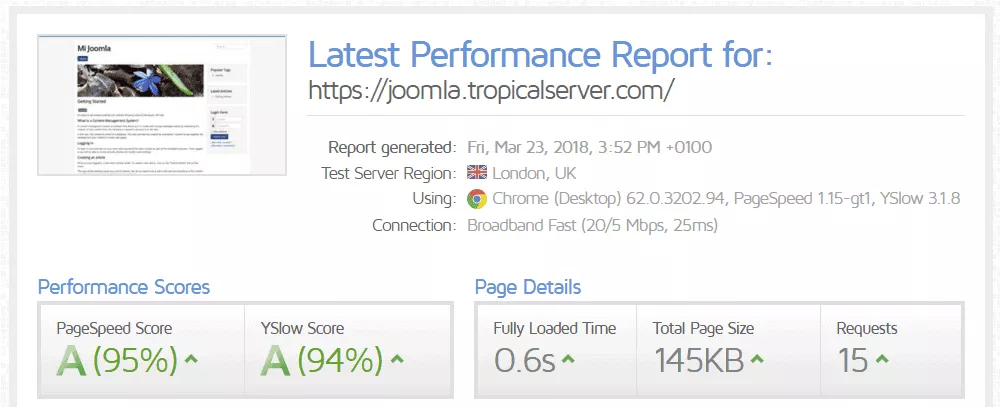 However, we found it expensive and the limitations played a major role in our displeasure, from limited databases to restrictions to host more domains. The storage space has not been the most ample but since it integrates NVMe disks the speed was great.
So it is a good provider, but it is intended for new or medium-sized projects that do not require so many advanced or extensive services. We recommend choosing a plan according to the objectives of the project to be appropriate and beneficial.
Alternatives to Tropical Server Hosting
Top 5 Hosting Services in 2023
Tropical Server Technical Data and Features
| Main Features | Tropical Server |
| --- | --- |
| Hosting | |
| Price from | 69€ |
| | See Offer |
| Hosting cloud desde | 69€ |
| Dedicated hosting from | - |
| VPS Hosting from | 99€ |
| Money back policy | 30 days |
| Server location | Spain |
| Disk (SSD or HDD) | NVMe |
| CPU cores (number) | From 1 |
| Loading time (ms) | 936 ms |
| Control panel (cpanel, etc.) | cPanel |
| Disk space (up to GB) | From 1GB |
| RAM (up to GB) | From 1GB |
| Wordpress? | |
| Website builder? | |
| Free site migration? | |
| Free domain? | |
| Free SSL? | |
| | See Offer |
Frequently Asked Questions About Tropical Server
✅ What is Tropical Server?
Tropical Server is a company from Granada (Spain) that was founded in 2003 as a pioneer in open source script web solutions, at the beginning they have been recognized for founding spanish versions for Mambo and Joomla. Currently it is focused on WordPress solutions by managing cPanel to help a community to develop their project.
👌 Why Choose Tropical Server hosting?
Tropical Server specializes in NVMe cloud hosting with high availability of servers connected to the best network in Europe. Security settings and optimizations of open source services are benefits to empower and boost your project, even has automatic updates.
✌ What are the benefits of Tropical Server?
The benefits you can get after hiring a Tropical Server service is unlimited traffic, free SSL certificate, free domain and private Whois. In addition to templates for the most popular CMS at no cost.
💰 What is the price of Tropical Server?
Tropical Server price is in Euro with a yearly billing cycle, you can get a 10% discount after entering the coupon for WordPress plans.
WordPress-S 89 € Year
WordPress-M 129 € Year
WordPress-L 219 € Year
WordPress-XL 329 € Year
🚀 How to install Tropical Server?
To install Tropical server on a Windows computer you must make sure you have Framework Java Server versions updated to allow the proper use of the hosting. Then you can follow these steps:
Download from the official website the latest version of the webhosting software.
Extract the files and run the installer
Once installed it is necessary to register and configure the server through http://localhost:8097/.
You can consult technical support if you are not familiar with the software you need to use to install Tropical Server. The support will be able to guide you through each procedure to make things easier.
⭐ What Other Hosting Providers Are Recommended?
We at
Hosting Dolphin
have taken the task of selecting for you a list of other hosting providers for you to make your choice: In the following list, you will find the reviews of the best hosting on our website:
🔍 What Hosting Related Content Can I Know?
If you want to know more information about the world of
Web Hosting
, we invite you to continue browsing our website, where you will find articles such as:
This has been our summary about Tropical Server, we try to be as objective and sincere as possible so that your decision when choosing this provider is the right one.
If you have suggestions or any comments you want to make about this review you can leave your comment below, we also invite you to review more of our web hosting reviews. Thanks for staying with us.