WireNet Chile: Pricing, Ranking, Reviews and Opinions
If you are looking for a web hosting provider with comprehensive technology that is constantly being renewed, WireNet Chile will be ideal for you. With a history that began in 2002 and continues with the best quality web hosting.
It stands out for including tools that a website has an easy management with cPanel and WordPress. They even maintain an excellent technical support service to answer questions and solve problems.
In Hosting Dolphin we had the opportunity to evaluate WireNet Chile plans for a few months and checking the quality and innovation of their plans. If you want to know everything this Chilean hosting provider offers, we invite you to read the following text.
Pros and Cons of WireNet Chile
Pros
Access to cPanel
Unlimited data transfer
Free SSL
Competitive pricing
State-of-the-art technology
SSD disk storage
Multidomain Hosting with Linux and Windows
Cons
Some plans only offer annual billing
Questionable technical support
In basic plans only allows one domain
WireNet Chile Offers and Plans
Reasons to Choose WireNet Chile in 2023
One of the reasons to choose WireNet Chile is its trajectory, it has been in the Chilean market for almost 20 years and has powered thousands of websites. In addition to having experience in design, development and web positioning.
WireNet Chile has the latest resources and technology, so its plans are updated and constantly evolving within the network. In addition, WireNet Chile offers important tools such as cPanel and WordPress.
This web hosting provider is characterized by using first level servers or High-end servers with hardware renewal policy to avoid slow services. Therefore, the Uptime is over 99% which guarantees that your website will always be online.
If you are not sure about using this hosting provider you can try their trial version for 15 days, risk free. When you decide you can cancel the service and will be granted a hosting plan.
Finally, WireNet Chile specializes in shared web services, ASP, VPS cPanel, dedicated with alliances with leading software providers.
WireNet Chile services in 2023
WireNet Chile offers enterprise-class servers, immunify 360 protection, exclusive disk backup. From 2 to 6 parked domains and from 2 to 8 subdomains, depending on the plan chosen by the customer.
In addition, we offer weekly, monthly and final 14-day backups.
Multi Hosting plans are characterized by hosting several domains in the same WireNet Chile account. It offers access to cPanel and compatibility with WordPress on Linux.
Dedicated servers come with Linux and Windows operating system options. WireNet Chile offers constant monitoring, remote hands, 48 hour activation, dedicated link and server power.
They feature enterprise-class Linux servers and SSD disk storage, secure access via SSL. They also include secure access to cPanel, file manager and restrict IP access.

WireNet Chile Analysis and Features
a. Quality of Support
WireNet Chile has a highly trained technical stafffor the resolution of major conflicts in 8 hours and minor conflicts in less than 2 hours. However, it is only available during office hours, which limits its resolution capacity.
It does not have an online chat, but it does have active channels such as telephone support, e-mail and ticket generator. Through its ticketing and email channels, they are operational 24 hours a day, 365 days a year.
In their customer services they clarify that they work in an 11-hour format, that is, from 8 am to 7 pm. This time applies for customers who require assistance by phone call.
b. Ease of Use
WireNet Chile implements tools that are ideal for expert users and beginners, although it does not have a knowledge base. It does add didactic tutorials, so that each of its users can get up to date with its website in an easy and practical way.
WireNet Chile also adds cPanel access to manage all the important and minor aspects of your website. In addition, it allows you to control everything from the CMS you need, design, delete and create email accounts and MySQL database management.
In addition, this provider has softaculous, which is the main automatic installer for cPanel. It has more than 450 applications, which every customer can choose and use with just one click.
c. Storage
WireNet Chile has 4 options in its Linux hosting plans, its basic plan consists of 1 GB in SSD disk space, unlimited monthly transfer and 2 databases. Its intermediate plan consists of 2 GB of SSD disk storage, unlimited transfer and 3 databases.
In its SMB and Professional plans, it includes 3 and 4 GB of SSD disk space, 4 databases for the SMB plan and 5 for its professional plan. In both plans, WireNet Chile offers a completely unlimited monthly transfer.
d. Domain Names
WireNet Chile offers in its plans parked domains and subdomains, the amount will vary according to the choice and needs of the client's website. The most basic plan integrates 2 parked domains, while the pro plan integrates 5 parked domains.
In addition, it allows a secure registration with state-of-the-art technology, 7 days trial and the same price for the renewal. WireNet Chile has immunify 360 security, which will protect your brand from malicious third parties. It provides security, stability and a constant operation of your website without obstacles.

The most popular domains or requested by WireNet Chile customers are:
.com
.es
.co
.net
.shop
.store
e. Databases
WireNet Chile offers limited databases in its Linux hosting plans, the same happens in its reseller, VPS and dedicated plans. Each client should evaluate the needs of their website and requirements and choose the plan that can cover all the necessary and more.
In its Linux plans, it offers from 2 to 5 databases, depending on the plan you choose and your budget. Remember that Linux plans are more oriented to small or medium range websites.
f. Transfer
Undoubtedly, an item where WireNet Chile excels is in transfers, since from the simplest plans it offers unlimited monthly transfers. So no matter if you require or have a large number of visitors or less, WireNet Chile will provide a management without barriers.
Betting on a provider that offers unlimited main resources as WireNet Chile, gives us the possibility to grow much faster in the network. In addition, to have a stable website, allowing our customers to interact and enjoy our content without interruptions.
g. Mail
The email accounts offered by Linux are quite generous from the beginning of their plans. Having a website with an email account is vital, in its hosting plans Linux offers between 5, 10, 15 and 25 email accounts.
It will depend on the plan you choose, whether it is Basic, Intermediate, SMB or Professional. In addition, WireNet Chile includes programmable replies, programmable message forwarding, synchronization with your mobile devices and PC and of course anti-spam security.
h. Applications
The CMS with WireNet Chile are perfectly covered, this provider, in addition to being specialized in WordPress. It has pre-installed applications that your customers can use at the click of a button from cPanel.
Customers have access to more than 450 applications for design, management and optimization of your website. Applications such as Joomla, Magento, Drupal, WooCommerce, Type 3 and more will be available in their hosting plans.
With the inclusion of WordPress and its easy management the website will have a better handling. In addition, you will be able to download WordPress plugins to add customization.

i. Multisite
WireNet Chile has a multi-domain hosting package, so customers can select plans specifically designed for this. From developing multiple ideas from one web site, to starting a business by renting hosting to third parties.
Their plans feature enterprise servers, Raid 10 SSD disks, dedicated disk backup and dual power supply. It has 4 Linux Multidomain hosting plan options, each one offers from 3, 5, 10 and 20 domains.
WireNet Chile takes care of adding cPanel control panel, HTTP/HTTPS support, professional website builder, webmaster tools. One of the advantages of multisite is that you can install WordPress Multisite to host websites on the same WordPress installation.
j. SSL Certificate
WireNet Chile like other leading providers in Chile and Latin America, offers free SSL on all its hosting plans. So every customer can count on security, professionalism of their website and better visibility in the digital market.
Every provider should provide security, stability and confidence to your website, which will make it easier for your customers to trust your brand.
WireNet Chile Pricing and Promotions
WireNet Chile has multiple plans, each classified according to the size, requirements, needs of customers. View their most popular and competitively priced plans in Chile with annual billing cycles:
| Service Offering | Price | Savings |
| --- | --- | --- |
| Basic Hosting | $11.880 Chilean pesos per year | Does not include |
| Intermediate Hosting | $21,890 Chilean pesos per year | Does not include |
| Hosting Pyme | $32,890 Chilean pesos per year | Does not include |
| Professional Hosting | $43,890 Chilean pesos per year | Does not include |
WireNet Chile Promotions
WireNet Chile does not have discounts or prices per month or quarterly. Even so, it offers 7 days free trial with its services, to detail every aspect before choosing it as a stable provider.
WireNet Chile Payment Methods
WireNet Chile offers payment facilities, so contracting a service with them is not an arduous task. Thanks to their flexibility and variety of options, you can make your payments by the means you use the most.
The most used payment methods by WireNet Chile are:
Santander
BCI
Bank of Chile
Web Pay
ServiPag
PayPal
Disadvantages of WireNet Chile Hosting
The disadvantages that we noticed after several months of using this provider, is that it does not have an optimal technical service. Its restrictions in terms of schedule, does not allow a better monitoring and follow-up from its technical staff to the customer.
Another notable disadvantage of WireNet Chile, is that you can not hire the monthly service is only available in quarterly, semi-annual and annual billing. So if in 7 days we do not solve all the doubts of this provider, we will be tied to months or a year with them.
WireNet Chile Hosting Conclusion
In Hosting Dolphin we want to offer you a realistic view of WireNet Chile, after six months of hosting there are certain benefits of the provider and some flaws that make a difference. But the question that most people ask is it worth hiring it? We tell you.
In general, it is a provider with basic and some professional functions, we chose the intermediate plan to check its quality. And the disk space was a limitation, the databases were restrictive and it did not include free domains.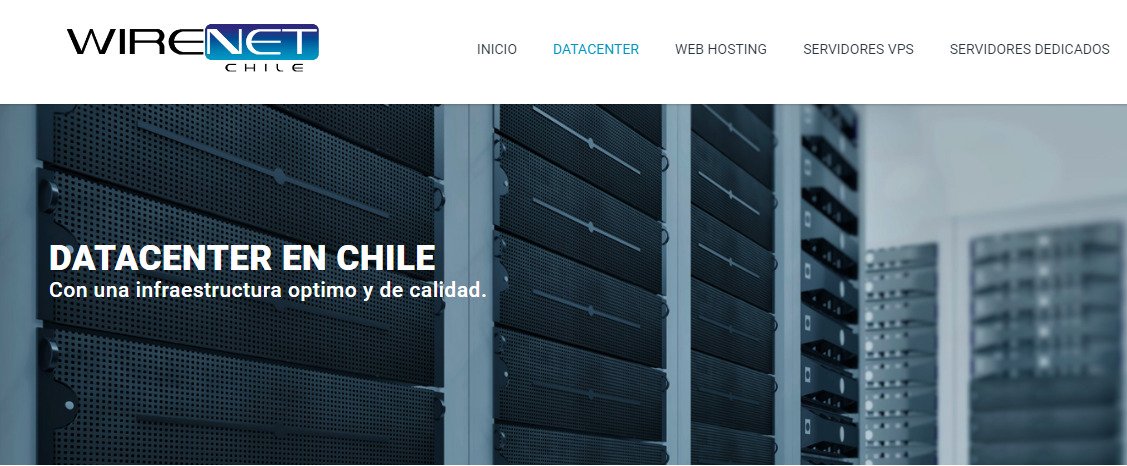 Also, in customer service the experience was not pleasant, the time dedicated to customers is short. This is a disadvantage for high demand websites.
In terms of software, WireNet Chile offers point technology, SSD disk storage and raid 10. This is a section that we liked, as it remains current and in a constant process of improvement.
WireNet Chile stands out by offering 14-day backup, daily, weekly and monthly backups. In utilities it offers access to cPanel, softaculous, professional website builder and the most outstanding CMS in the market such as WordPress.
Undoubtedly, it is not far from being the best provider, its functions are nice and optimal to start a website and boost it.
WireNet Chile Hosting Alternatives
Top 5 Hosting Services in 2023
WireNet Chile Technical Data and Features
| Features | WireNet Chile |
| --- | --- |
| Hosting | |
| Price | CLP 11.880 |
| | See Offer |
| Shared hosting from | CLP 11.880 |
| Dedicated hosting from | CLP 100.000 |
| VPS Hosting from | CLP 30.000 |
| Refund Policy | 7 days |
| Location of servers | Chile |
| Disk | SSD |
| CPU cores (number) | From 1 core |
| Loading time (ms) | 1.8 ms |
| Control panel (cpanel, etc.) | cPanel |
| Disk space (up to GB) | From 1 GB |
| RAM (up to GB) | From 2 GB |
| Wordpress? | |
| Website builder? | |
| Free site migration? | |
| Free domain? | |
| Free SSL? | |
| | See Offer |
WireNet Chile Frequently Asked Questions
✅ What is WireNet Chile?
WireNet Chile is a Chilean provider, which had its beginnings in 2002 in response to the need to host a website securely. Since then and thanks to its constant evolution, it has managed to lead the first places in the Chilean market.
✌️ Why choose WireNet Chile?
It is a provider that has great visibility within Chile, has great experience in the market and includes state-of-the-art technology in its services. In addition, it offers competitive prices, a 7-day trial and a 30-day money back guarantee.
✨What are the benefits of WireNet Chile?
WireNet Chile has SSD disk storage, a variety of plans and services, constant security and backups. Constant monitoring of blacklist in real time, programmable email and more.
💰 What is the price of WireNet Chile?
All WireNet Chile prices are reflected in annual mode, so the final price will be subject to the plan you choose. The most used WireNet Chile breads by its customers are:
Basic Plan $11,880 Chilean pesos.
Intermediate Plan $21.890 Chilean pesos
Small Business Plan $32,890 Chilean pesos
Professional Plan $43,890 Chilean pesos
🚀 How to install WireNet Chile?
Initially we must enter the provider's official website and go to WireNet Chile plans and services. Once you have previously evaluated the needs, requirements and tasks of your website, choose the plan that best suits it.
Then you will have to pay for your plan with the payment method that best suits your needs. Depending on the payment method you choose, you will be able to activate or not the website in a few hours.
Once you have made the payment and subsequent activation, you can contact WireNet Chile staff, who will guide you step by step via phone call. Remember to start the process during office hours, so that you can be attended to immediately.
⭐ What Other Hosting Providers Are Recommended?
We at
Hosting Dolphin
have taken the task of selecting for you a list of other hosting providers for you to make your choice: In the following list, you will find the reviews of the best hosting on our website:
🔍 What Hosting Related Content Can I Know?
If you want to know more information about the world of
Web Hosting
, we invite you to continue browsing our website, where you will find articles such as:
This has been our summary about WireNet Chile, we try to be as objective and sincere as possible so that your decision when choosing this provider is the right one.
If you have suggestions or any comments you want to make about this review you can leave your comment below, we also invite you to review more of our web hosting reviews. Thanks for staying with us.